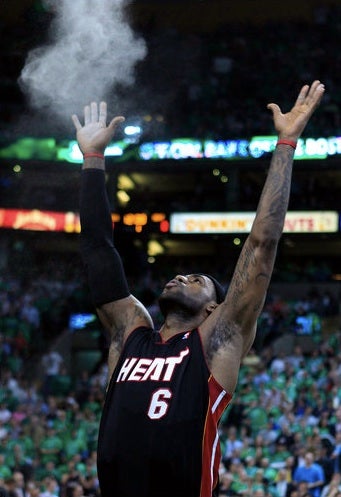 FreeDarko's Bethlehem Shoals, a regular contributor to NBA FanHouse and co-author of The Undisputed Guide to Pro Basketball History (visit the FreeDarko store, too!), is keeping a game-by-game diary of the Heat's season — the one you're pretending not to care about.
Result: Celtics 88, Heat 80
Record: 0-1
"Sorry if everyone thought we were going to go 82-0. It's just not happening."
That was Dwyane Wade (he's the superhero, not the introspective braggart), speaking after the Heat's loss to those nasty Celtics. That said, they will still play 82 games, maybe even more. I will write about each and every one of them. After last night, I am considerably less excited about this assignment.
Strip away, for a second, all this summer's talk about how the Heat spelled the downfall of Western civilization, the rising up of the young, gifted, and black, or a total betrayal of everything that great athletes are supposed to believe about themselves. If nothing else, Miami was supposed to be good. If there were going to be problems, they would at least be grandiose, and interspersed with moments of face-shattering basketball play. How could James, Wade, and Bosh not deliver theater — even it was a theater of pain and mixed blessings?
In other words, even if we detested the Heat as a media circus, we were all excited about them as a basketball spectacle. ESPN's Heat Index met with near-universal ridicule, but what if it had simply been tailored to their on-court exploits? Theater is not the same as soap opera; the drama we all crave in sports is quite different from the Mary J. variety. Rather than ruining the sport by furnishing the ultimate distraction, the 2010-11 Miami Heat were going to renew interest in the game itself.