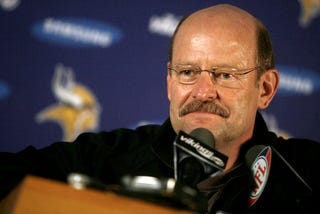 Drew Magary's Thursday Afternoon NFL Dick Joke Jamboroo runs every Thursday during the NFL season. Find more of his stuff at his Twitter feed.
I have to go back a while to try and remember a streak of coaching idiocy comparable to the roll Brad Childress is currently on. It takes a special kind of bald asshole to trade a third-rounder for a disenchanted food snob, release that food snob four games later in a weak attempt to be Mr. Discipline, then simultaneously allow Brett Favre to openly stick his very small dick in your ear any time he pleases. Then you toss in the bad challenges and the play calling and it's just horrid. FUCKING STUPID FUCKING CHILD MOLESTER DICKWASH.
There isn't anything left to say except that Brad Childress is perhaps the worst coach Minnesota has ever had, and this team employed Denny Green (aka Senator Clay Davis) for a fucking decade.
I was trying to think, in my time, of the very worst long-tenured coaches in NFL history. (Recent ones. I wouldn't know Forrest Gregg from my asshole.) I'm not talking about guys who flame out quickly, like Jim Zorn and Cam Cameron did. I'm not talking about forgettable coaches like Scott Linehan. I'm talking about coaches who were employed long enough to distinguish themselves as truly fucking AWFUL. I have to think Childress is in the Top Ten, at least of the current era. I started making a list of coaches who got FIVE or more seasons, be it with one team or more (this would exclude the likes of Zorn, Barry Switzer, and Rod Marinelli). Guys who kept their jobs despite being clear failures when it came to leadership, game management and general organizational skills. This is a list of 10, in ranked order.
1. Rich Kotite
2. Dave Wannstedt
3. Art Shell
4. Brad Childress
5. Wade Phillips
6. Norv Turner
7. Denny Green
8. Jerry Glanville (though I'm not sure about including him. I mean, he DID leave tickets for Elvis every game. Then again, he was the worst TV guy in the universe)
9. Lovie Smith
10. Dick Jauron
10a. Andy Reid
Please dispute this list as you see fit. (UPDATE: Dave Shula and Wayne Fontes! SHIT!!!) The KSK guys think Jim Mora Sr. should have been a lock. Four of these men are still head coaches, probably because I have no functional long-term memory. I can't include Mike Martz here, because he took the Rams to the playoffs four times in six years. And I can't include Marty, because he was pretty good at turning teams around. I desperately want to include Ditka on this list, because he's such a breathtaking idiot, but I can't because he coached arguably the best team of all time. Being a playoff choker and being a truly bad head coach aren't necessarily the same thing. Marvin Lewis, Ray Rhodes, and Herm Edwards seem like shoo-ins, but having that many black dudes on this list would be RAYCESSSSS.
I think there are guys like Childress who benefit from the natural ebb and flow of the league. You can be a badly coached team and still win 10 games if the schedule falls right and you have oceans of talent. There's a special place in football lore for guys like Wannstedt, who was able to hang around for ages despite being a complete shithead. That's what makes a historically bad coach. Not only does he suck, but it seems like you'll NEVER get rid of his sorry ass.
The Games
All games in the Jamboroo are evaluated for sheer watchability on a scale of 1 to 5 Throwgasms.


Five Throwgasms
Colts at Eagles: I have to think that Andy Reid spent a majority of this week watching a taped loop of McNabb getting benched while fingering his own bellybutton. Sweet, sweet vindication.


Four Throwgasms
Bucs at Falcons: I enjoy Josh Freeman's hair. It looks like the wig C. Thomas Howell deployed in Soul Man. Did you know Ron Reagan was in that movie? IT'S TRUE! Check out this clip from Siskel and Ebert's review.
Bizarre. I would have also accepted Freeman's hair looking like Jheri Curl's hair in Hollywood Shuffle after Sam Ace has dumped out all of his activator.
Dolphins at Ravens: I missed the Ravens over the bye week. You ever miss a team because they didn't play the week before? Then they show up on the schedule the next week and you're like, "Hey, those guys! I forgot they had the bye last week! Nice to see them back." That's how I feel about Baltimore. The NFL is a poorer place when Ray Lewis has a week off from jumping on piles a second late and then dancing around like a retard.
Chiefs at Raiders: Have you ever had a woman get into a fight with you over a disagreement about color? I swear this happens with my wife and I at least once a month.
ME: Can you grab my black shirt?
HER: You mean your blue shirt?
ME: No, it's black.
HER: Are you blind? It's clearly dark navy.
ME: It's so dark navy, they in fact took all the navy out of it, making it black.
HER: Seriously, I'm worried that you may be colorblind.
ME: I'M NOT FUCKING COLORBLIND! And where is my green jacket?
HER: You mean your brown jacket?
ME: GAHHHHHHHHHH!!!
Now I have absolutely no confidence in judging the color of objects. Stupid black sweater.
Chargers at Texans: A couple weeks ago, readers asked who the very not unattractive gal in the Red Zone commercials was. That would be Anna Colwell, and Anna wrote in this week.