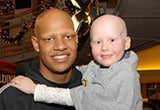 So, there's apparently an effort to turn the Sacramento Kings into the Kentucky Kings.
There's also apparently a need for a 24/7 Portland Trail Blazers news source network. From a team press release:
A live, online, interactive news conference announcing the launch of trailblazers.tv, a one-stop destination for all Trail Blazers video content. Featuring live programing, archived videos, daily shows and streaming, trailblazers.tv is the first of its kind in professional sports. ... The Trail Blazers have always pushed the envelope when it comes to the digital fan experience. Tuesday will be no different.
But just don't expect the Orlando Magic's coach to embrace the "digital fan experience."
Stan Van Gundy believes what is said on the court should stay on the court.

The Magic coach voiced strong opposition Friday to Detroit's Charlie Villanueva tweeting alleged trash-talking comments that Boston's Kevin Garnett made during a game. Van Gundy said it ''doesn't seem like the adult way to handle it'' and that Villanueva needs to act more like a ''grown man'' and respond privately to Garnett. [Fox Sports]