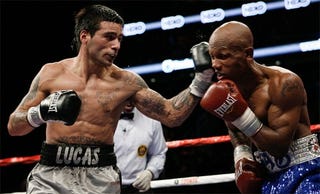 NEWARK—Losing is half of boxing. The more interesting half. Some losers are tragic, searching for something they'll never find. Some are noble. But only one loser can do it quite like Zab.
In Newark on Saturday night, a whole team of boxing promoters had lined up a card of spectacular mismatches. Ten fights, all the favorites in the red corner, all the predetermined losers in the blue corner. Ardrick Butler brought a 5-2 record from Philly, along with an odd habit of pumping his gloves up and down by his waist every time he jumped backward, a little Donkey Kong imitation in the ring. Ardrick had a handful of supporters who'd come up from Philly to watch him, and their cries grew more plaintive as he was systematically pounded by Mikael Zewski, a patient, promising 4-0 French Canadian who deserved the gold trim on his trunks. "You gotta put em together, Rick!" they cried, as Butler dripped bloody drool at the end of the second round. His corner joined in the urging: "If you wanna go to the next level, dog..."
The next level will not happen for Ardrick Butler. In the fourth Zewski bullied him, backed him all the way up to the ropes with hard short left hooks, body, head, body, head. Butler bounced off the ropes and made his charge forward, at which point Zewski just stepped back, ducked, and tripped Butler as he stepped past, for good measure. After Zewski'd been awarded the unanimous decision, Butler, thoroughly beaten, descended the stairs of the ring ahead of his cornermen and began to walk out, unnoticed. He stopped when he realized he was alone and glanced back for a moment, just to be sure his guys were coming, and hadn't forgotten about him.
Hevinson Herrera came all the way from Miami, but entered the ring in a t-shirt, his cornrows fuzzy. He clearly hadn't bothered to dress up for the occasion of his demise at the hands of Mike Perez, a Newark townie. Herrera's corner team was notable in that one of its members was a Snooki-esque woman with long hair, high black boots, and very tight, ass-accentuating jeans. Not that there's anything wrong with that—it's just not the usual sight at ringside. The Cuban Herrera quickly revealed a tendency, when he threw his left jab, to let his right hand fly off the side of his head, as if it had somewhere else to go, rather than staying put and protecting him from left hooks. It's the sort of thing one would think he would have fixed in the course of 21 professional fights. Perez must have noticed this, too, because he knocked Herrera out with a left hook halfway through the first round. I saw the Snooki-esque woman at the bar 15 minutes after the fight, gesticulating.
Alex Montes looked very small, even for a 126-pounder. His opponent, Tyrone Luckey, looked very big. And indeed he was, much taller. Montes proved he should be there, though, by rushing up and knocking Luckey down with a hard left hook to the head in the first round. This had the dual effect of preserving Montes's pride, but also of energizing Luckey, the clear favorite. Montes was staggered with a right hand in the first, then knocked down twice in the second while off balance from his brave but unproductive charges toward his taller opponent. In the third Luckey knocked him down again with a right hook, then rushed ahead and pounded Montes until the ref called the fight. Afterward, Tyrone stood in the center of the ring and raised his taped hands in the classic picture-posing stance; Montes, walking by him, stopped and looked at the row of photographers to see if he, too, was needed. He wasn't.
The ring announcer said that Kywayne Hill of Philadephia was "competing in his seventh professional bout," which meant he was 1-5. He entered the ring in a plain white t-shirt that didn't appear to be very new or clean. He lost a unanimous decision to an unpolished Long Islander. For all I know, neither you nor I will ever think of Kywayne Hill again.
Someone who didn't care much about Maurice Amaro's health had convinced Maurice Amaro to become a professional boxer. He was a light heavyweight, fighting guys big enough to really fuck you up good. Maurice came out nervous, jerky, his punches far too wide, at one point missing everything with an overhand right thrown with his palm down, like a swimmer slapping the surface of a lake. Two minutes through the first round, Maurice's leopard trunks had fallen down so far—below the bottom of his butt, exposing his blue-and-white striped boxer shorts to the entire arena—that the ref stopped the fight to pull them up himself, a real life bad dream of embarrassment come true. Maurice Amaro was like a man playing a boxer in a movie, poorly. He'd run up against a real boxer, Angel Concepcion, who beat him up but didn't knock him out, which only portends more brain damage for Amaro in his future, should he be foolish enough to carry on with his boxing fantasy. After the fight Maurice was very solicitous of the man who'd beaten him, going over and giving him a hug, patting him on his shoulders. Concepcion, though, barely wanted to touch him. Afraid some of Maurice Amaro might rub off?
Gary Bergeron of New Orleans entered the ring in a Jeremy Shockey jersey, with Saints colors on his trunks and a fleur-de-lis back tattoo. The whole Cajun boy bit. He fought with his hands held absurdly high, higher than I'd ever seen outside a Muay Thai fight, the fingertips of his gloves poking above the top of his head. Boxers must choose where to hold their arms to best protect themselves, since the average human arm is not long enough to cover both your face and your body, when bent in half. Generally boxers will compromise, holding their fists up by their chin, close enough to raise them up quickly to cover the face, but not so high that they can't drop their elbows just as quickly to shield their body. Bergeron reckoned that by leaning far forward, he could take his midsection out of the equation, leaving only his head to protect.
The perfect system? Not at all. He was fighting Sadam Ali, a wonderful former Olympian, an accurate puncher and a hard one, too. Ali appeared momentarily dumbstruck by the sheer battiness of Bergeron's defense; then, just as you'd expect, he waded in and punished Bergeron's unprotected body, thunking him over and over with underhands. No man's abs are that strong. After a couple rounds of that Ali was able to start splitting Bergeron's guard with uppercuts to the face, and it wasn't long before he scored a TKO, with the subsequent replay making the crowd say "OH! OHH! OH!" in unison. A minute later I caught a glimpse of Gary standing outside the ring in his Shockey jersey, alone, trying to undo the laces of his gloves with his teeth.
Vicente Escobedo has real skinny legs. There are lots of possible reasons for this: too much distance running, a poorly designed training split, or just genetics. But skinny legs mean a lack of power in boxing, where punches start in your toes. Not that you can't knock guys out— Escobedo was 22-2 with 14 KOs— but boxers with legs that skinny are almost never real-deal, one-hitter-quitter punchers. Robert "The Ghost" Guerrero, Escobedo's opponent, did not have skinny legs. And he did have power. The two fighters were almost identical, in fact, except that Guerrero could knock down Escobedo with one punch. Vicente Escobedo was an amazing counterpuncher, one of the best I've seen in a long while, able to consistently and with no hesitation tag Guerrero with left hooks over the top of every straight right, then next time pop that same left hook to his gut, with great accuracy. He could see opportunities coming before they came, and he could pop counterpunches through holes in Guerrero's defense that required him to start throwing his punch before those holes even existed, to put his fist through a space that would only be vacant for a quarter of a second.
Of course, Escobedo lost. It wasn't close, technically, since for all his great counterpunching, and for all his warrior spirit, his punches, crisp as they were, didn't have as much behind them as Guerrero's did. So Guerrero cut Escobedo's ear badly in the first and dropped him with a straight left in the third, and again in the fifth, and again in the sixth, and cut his right eye in the seventh. And every time Escobedo got back up and fought back like a motherfucker. A smart motherfucker, always watching and anticipating, unfazed, cracking Guerrero with looping straight rights over the top when he let his back hand sag too low. In the final round you could fairly say that Escobedo managed to beat Guerrero all over the ring, never knocking him down but coming forward and throwing fiercely, like a cat scratching up a bewildered bulldog. Guerrero, thanks to all the knockdowns, got the win. Escobedo got my respect, and after the fight, he proposed to his girlfriend right there in the ring. Sometimes losers win.
* * *
And sometimes winners lose. This night was all leading up to the second comeback bout for Zab Judah, the most Brooklyn of Brooklyn fighters since Mike Tyson. A world-class former badass, now reformed by God, Zab entered the ring to gospel music: "I'd never make it without youuuu [Jesus]." In his first comeback fight, a few months ago, Zab had looked good. He still has incredible hand speed and the knockout power that comes with it, and he still has his little baby left uppercut, which he throws right out of his southpaw stance, fast and close, able to knock unconscious anyone who decides to try to fight Zab on the inside. All it takes is a little turn of the hip and that left shoots straight up, and if it catches you on the chin, you're done. Zab moves extremely well, too, and he's generally able to spend a few rounds popping double jabs and then slamming straight lefts to the body to soften his opponent up before going in for the kill.