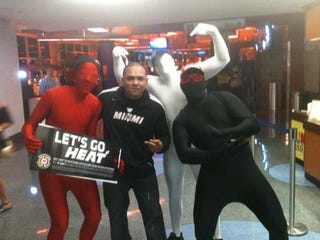 FreeDarko's Bethlehem Shoals, a regular contributor to NBA FanHouse and co-author of The Undisputed Guide to Pro Basketball History (visit the FreeDarko store, too!), is keeping a game-by-game diary of the Heat's season — the one you're pretending not to care about.
Note: Bethlehem Shoals is taking the next couple of columns off because of a scheduling conflict. Filling in for him is Eric Freeman, a FreeDarko regular and one of the authors of The Undisputed Guide to Pro Basketball History.
Result: Celtics 102, Heat 97
Record: 5-4
While the score might suggest a close game, this was probably the most dominant five-point win I've ever seen. The Celtics forced the Heat into bad shots throughout the night, and Miami played along by not working terribly hard to find good shots. At the other end, the Heat seemed unable to put together a string of solid defensive stops, with their rotations looking erratic the entire night. Rajon Rondo's slam was the play of the night, but it wouldn't have been possible without Chris Bosh's polite indifference.
Which brings us back to the inexorable problem of Bosh, who has the dominated the storyline of the Heat's season just as surely as LeBron dominated the storyline of their offseason. It's rare that you see a star get exposed the way Bosh has, and as Shoals wrote the other day, he — not LeBron, who is too effervescent a player for serious hoops fans to hate for long; not Wade, who didn't really do anything to begin with — has become the team's ultimate asshole. He is now the villain to virtually everyone. In Toronto, he's seen as a traitor. Stateside, he's another ring-chasing imperialist. And in Miami? He's the guy ruining the party.