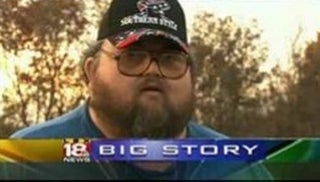 S
Remember good old Harvey Westmoreland, the Kentucky guy who lost his beard in a spat with friends over the price of a used riding mower? (Here are the details of the whole sordid Southern Style mess.)
Well, word just came in from WLEX in Lexington — see what they did there? — that Harvey had his justice-gittin' moment in court this morning.
An Anderson County judge sentenced Troy Holt to five years probation. His co-defendant, James Hill, was sentenced to four years probation. The pair pleaded guilty to terroristic threatening, assault and unlawful imprisonment charges.

As a condition of their probation, Holt and Hill must have no contact with Westmoreland, cannot possess firearms and must remain drug and alcohol free. They can also be required to attend substance abuse counseling if deemed necessary.
Here's hoping Harvey gits back to a place where his faith in humanity is restored. No video posted yet from today. If there is, we might could update later.
UPDATE: Here's a link to WLEX's noon story on the sentencing.