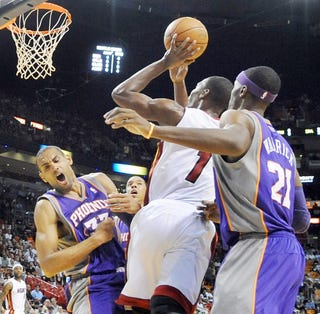 FreeDarko's Bethlehem Shoals, a regular contributor to NBA FanHouse and co-author of The Undisputed Guide to Pro Basketball History (visit the FreeDarko store, too!), is keeping a game-by-game diary of the Heat's season — the one you're pretending not to care about.
Result: Heat 123, Suns 96
Record: 7-4
I went to the circus once. There were three rings, with stuff happening in each of them. It was all very different, too. There was an elephant getting whipped in its scars; some clowns keeping alive their fine Prussian traditions; and maybe a motorcycle speeding around in a giant steel globe. I guess at times, one or two rings stood down, or took a break, to let their co-workers shine. But at least in principle, the selling point was the sheer variety of spectacle.
Ergo, it's usually really fucking stupid when sports teams are referred to as "a circus." By definition, a circus entails diversity, plurality. One crazy wide receiver — or even one superstar summit in South Beach — does not a circus make.
Yesterday was really, truly an exception — one of those pure days of honest-to-god big-top fun for the Miami Heat. We had Chris Bosh going to town on the puny Phoenix Suns, ostensibly clearing his good name; Bosh afterward making an off-hand remark about work and play that threatened to undo any and all goodwill this team has built up; and, nearly lost in the shuffle, a performance by the Heat that looked an awful lot like the Greatest Show that we optimists had been counting on since July.
Bosh went to work, hard, against the Suns. Now, the Suns are a small team almost out of some peculiar local tradition — they like to play small the way Pacific Islanders like to fish. With Robin Lopez out, their size deficiency becomes nearly comical. Factor in the sheer planetary mass/force/gravity of LeBron, and this game was bound to play out like some really fancy bowling when the Heat were on offense. Perhaps all too aware of the media rumblings, or the Basketball Jones's outright howler of a rap parody vid, the Heat (Bosh himself? Riley? Maverick Carter?) got the ball to CB4 early and often and as deep as possible — as if to prove a point then, and over and over again. Bosh finished with 35 points in 30 minutes. Scoff at his six boards, but figure that Bosh might have bumped that into double figures with more time. Hooray. Problem solved.