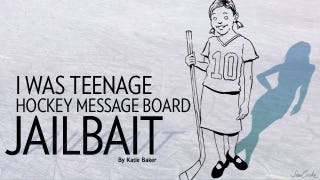 In 1999, Katie Baker was a thoroughly self-possessed, hockey-loving 18-year-old headed for Harvard. Or so the older men she met online — and offline — believed.
If you Google hard enough, you can locate a thread deep within the Internet that was posted to the alt.sports.hockey.nhl.phila-flyers Usenet newsgroup on March 22, 2000. "Where oh where is Katie Baker??" reads the subject line. "What the hell happened to her?" says the post.
The responses are mercifully cryptic. "Detention," wrote one man. "Isn't she trapped in Cambridge?" cracked another. "Harvard has a high school? :)" responded someone with the username Nastyflyersgirl.
"Wow," wrote one lady called Starr. "No one is safe with any secrets here. Like they say, the truth is bound to come out sooner or later."

At some point in like 1995, when I was 11 or so, I started agitating for a computer of my own, no longer satisfied with the lumbering DOS-driven heap we had in the den. I wanted a Mac because we had them in school, and finally one day I got one: a PowerPC, top of the line. It came pre-loaded with a program called eWorld, and I snuck down to the garage, pulled my dad's credit card out of the wallet he kept in the door of his car, and chose the name "SportsKate."
eWorld was basically AOL but owned by Apple and only for Macs. This meant that it was cheery and adorable — the landing page looked like a little town village, complete with a happy little mail truck that would chuggachugga right up and deliver your letters — and also that very few people used it.
I spent an enormous amount of time hanging out in the virtual village, mostly downloading zany screensavers and playing online chat-room games. But Apple stock was in trouble then, falling by half to a price of $6 on March 31, 1996, the day eWorld was officially shut down. The plug was pulled at midnight on the West Coast, and I stayed up 'til 3 a.m. on the East in a chat room overflowing with people gathered together to live out the final minutes, e-hugging and exchanging contact information as if it were the last night of camp.
"I haven't known all of you," wrote one chatter, "but I wanted to say good bye and to wish you well." "Goodbye, little red mail truck," wrote another.
Soon after the shuttering of eWorld, a gang of former employees began Talk City, an Internet Relay Chat-based network that aimed, in its words, to be a "clean, well-lighted place to chat." I spent so much time chatting on Talk City that they hired me.
I got paid $8 an hour to moderate chats — scolding people for bad words, explaining what it meant when someone typed a colon followed by a dash and a parenthesis, and generally being unfailingly perky. I got $12 an hour to run topical programming. I led hard-hitting discussions about bulimia and bullying, and I hosted a popular Sunday night game called Commercial Crazies that I prepared for, mostly, by writing down the commercial slogans I saw on the MSG network during Knicks and Rangers games. (Minolta and Nobody Beats The Wiz were in heavy rotation.) I signed a document informing me that I was protected by child labor laws, as if I were shoveling coal or sewing sequins in a factory.
"When it comes to live online chats," began a 1997 article in BusinessWeek magazine, "Katie Baker keeps conversations popping. As a moderator on the Talk City chat site run by LiveWorld Productions, Inc, she hosts a Youth Online chat three nights a week. Baker draws out participants, screens out bozos, and in the process forges a global community of teens. How does she know what they care about? Because she's one of them: a 13-year old from Pennington, NJ."
"Hey Bakes, Pukester's on!" my best friend Ashley announced from my desk, where she sat playing Snood on my computer. It was 1999, the fall of our junior year in high school, and as usual we were hanging out in my dorm room blasting Destiny's Child on repeat and avoiding our homework. I didn't respond.
"Pukester" was how she'd interpreted the screen name PUKSTPR31, one created in loving memory of the Philadelphia Flyers' Pelle Lindbergh, the first NHL goaltender to place his water bottle atop the net during games and also the first to kill himself by crashing his custom Porsche into a wall while driving with a blood alcohol content of .24.