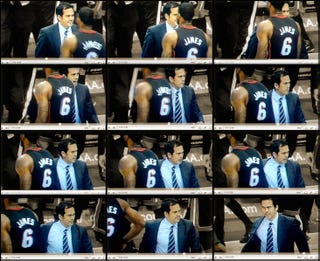 FreeDarko's Bethlehem Shoals, a regular contributor to NBA FanHouse and co-author of The Undisputed Guide to Pro Basketball History (visit the FreeDarko store, too!), is keeping a game-by-game diary of the Heat's season — the one you're pretending not to care about.
Result: Magic 104, Heat 95; Heat 99, 76ers 90; Mavericks 106, Heat 95; Heat 105, Wizards 94
Record: 10-8
When we were all subjected to The Decision, and danced around and said how rotten it was, some especially clever folks contrasted it with Michael Jordan's "The Shot." Just as MJ's fateful jumper in Cleveland set the stage for the rest of his career, the thinking went, so too would The Decision forever cast James as a middling clown. Except there had been another shot before "The Shot," when the UNC freshman sealed the 1982 NCAA championship. And there was another one much later, over Bryon Russell in 1998, that sealed the deal with immortality. The Decision, for all the build-up and rage that followed, was a sideshow. I'm sorry, but no athlete of LeBron's magnitude can have his career defined by a bad infomercial.
Thank god, then, for The Bump. James didn't quite lay hands on his coach, but the intent was there. The Shot proved Jordan the most bloodthirsty of competitors; The Bump demonstrated that LeBron respects no boundaries but his own, thus meaning we need set no boundaries in our abuse of him. It couldn't have come at a better time, either. On Thursday, James makes his first return to Cleveland since Judas-ing the brave and humble city that produced him (or, more precisely, the brave and humble city that lies just 40 miles from the braver and humbler city that produced him). Dan Gilbert has promised no Gestapo, which is a relief, and yet that poorly chosen analogy does give you some indication of how dire the emotions surrounding this game are. It also shows you just how sneaky the otherwise foolhardy Gilbert has been (at least this once). The Gestapo was a terrible awful thing that served to repress and destroy whole populations during World War II. In this case, this hypothetical force would be deployed because multi-national interests outside of the city didn't want to see LeBron insulted, maimed, or killed. Where would this Gestapo come from? Nike, Stern, China, anywhere but here. Who wields the Gestapo? Hitler. If you squint hard enough, Dan Gilbert called LeBron James Hitler, and only I noticed.