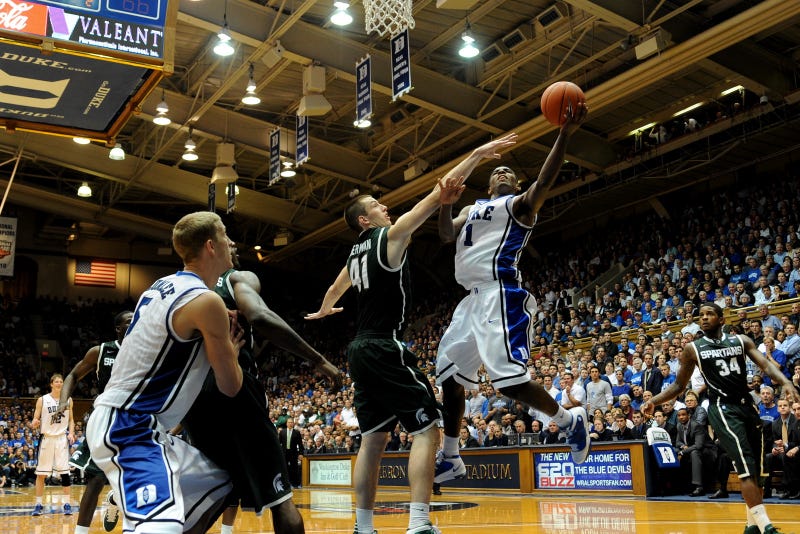 Every week, this recent Duke graduate will offer you a new reason not to hate the Duke Blue Devils, the bestest basketball team in the land. You are free to disagree.
LAST WEEK'S GAMES: Duke 84, Michigan State 79; Duke 80, Butler 72; Duke 83, Bradley 48; Duke 84, St. Louis 47. RECORD: 10-0. NATIONAL RANKING: 1 (AP, ESPN/USA Today).
THIS WEEK'S REASON WHY DUKE ISN'T REALLY SO LOATHSOME: Let's start with something we can agree on: Kyrie Irving is a pretty terrific college basketball player. Or was. One of the two. No one knows! But since we last exchanged pleasantries and holiday cheer, Irving became a National Player of the Year candidate and projected No. 1 pick in the NBA Draft, all in about 40 minutes of brilliant basketball. Then, by the end of his next game, he had been relegated to an orthopedic surgeon's waiting room and indefinitely reduced to a student with a whole lot of basketball talent, just another guy on campus in a zip-up argyle sweater.
Kyrie Irving, you see, injured the big toe on his right foot. That matters because of what it means for Kyrie Irving's left hand, which, for my money, is the most potent weapon in the game. He can do so many things on the basketball court — like, push off on that big toe, shield his body from a defender, switch the ball to his left hip and, twisting that hand just enough, put the proper spin so the ball so it thuds off the glass into the net. Just something along those lines — and now, for the time being, he can do none of them. Because of that left hand, Duke has a 20.1 percent chance to go undefeated, according to Ken Pomeroy's magical numbers machine, and because of that big toe, this 20.1 percent chance looks a lot more like a 20.1 percent chance than it did a few weeks ago.
Of course, because we're blessed with a ubiquity of recruiting experts, Irving's ambidexterity isn't much of a breaking development. In November 2007, ESPN evaluated someone named Kyree Irving as "a poor man's Tim Hardaway-type offensive player," one who was "currently an unknown in the 2010 class" and "would be a top 300 player in the 2010 class nationally." Here's a snippet from his scouting report nine months later:
On his penetration to the basket, Kyrie uses various dribble moves, perhaps his favorite is the cross-over (right-to-left).
Then, February 2009:
When Irving gets to the paint, he can finish with his off hand (left hand) very well and has good body control, which allows him to adjust in the air and still finish when big post defenders attempt to block his shot.
April 2009:
He also knocked down a pull up jumper with his left hand although he is a true right hand shooter.
Finally, January 2010:
Irving will be the best point guard prospect heading to Duke since Jason Williams laced them up for the blue Devils.... It will be shocking if he isn't an All-Conference performer and possible All-American his freshman season.
And it was kind of shocking — in a holy-whoa-did-that-just-happen kind of way — to see Irving lope up the court and explode past a defender, or turn the half court into his own personal playground, and only when it was absolutely necessary. But in his eight games, in which he averaged 17.4 points per, it was what Irving did with his left hand, especially, that made him such a surefire All-American. Even weeks later, who can forget? There was the coast-to-coast drive and finish against Kansas State. The slice-and-dice up-and-under to bury Michigan State. The block of a player three inches taller with, yes, only his left hand. By the end of the year, you half-expected him to tomahawk over a 7-footer with that off hand, or maybe just tie his entire right arm behind his back, just to see what might happen.
The Blue Devils, make no mistake, will be fine without Irving, and I know this because mathematics told me so. They're still the very, very bestest team in the land, for now. But that doesn't change the fact that Duke fans would have happily forgone every single one of those oohs and aahs from November — and probably a few of the wins from that month, too — if it meant not obsessing over someone else's big toe.
OPPOSING COACH'S DEFERENTIAL QUOTE: "When you watch them on tape, you have to pick your poison," said Bradley coach Jim Les, whose name is a Steve Rushin pun waiting to happen and whose Braves had just lost to a team without arguably its best player. "People were asking me, 'How are you going to exploit their weakness?' Well, when somebody finds their weakness, they can let me know."
YOU PEOPLE: This is what one anonymous reader classifies as "*not* an 'I hate Duke basketball bit.'" If you do have an "I hate Duke basketball bit," then you know how to find me.
< rant >Wow. A The Plumlees aren't exactly great examples of the white men can jump assertion: 6'10" Mason has a personal best in the high jump of...6'8"; 6'10" Miles has a best of 6'9". In other words, neither man could even jump his own height, the minimum standard in jumping *on the high school level.* I'm not saying the boys can't *play;* but to say they can actually *jump* is a bit much, knaamean? You could better make the assertion that with a (lack of) vertical leap like this, these two white men have *negative* hops. (Look at the video again; there's barely space between their Nikes and the floor.) I mean, really: you want "White men can jump" hops? Try 5'11" former high jumper Stefan Holm of Sweden, whose PR is 59 centimeters (or 23.2") over his head: 7'10.5". Got that? Holm stands a foot shorter than the brothers Plumlee, and jumped a foot higher than either brother could. *That's* hops.

(I know, I know: who cares about track and field?)

In any case, let's not get carried away: the Plumlees have the perfect height and mobility to end up being posterized by a 6'2" guard at a college arena near you.

< /rant about gangly kids who can only dunk because all they have to do is extend their arms to reach the basket >