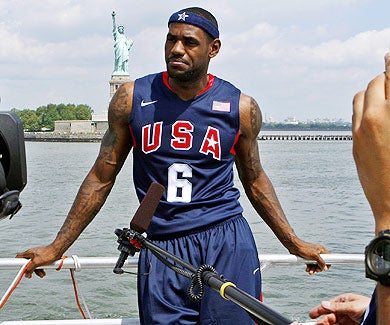 FreeDarko's Bethlehem Shoals, a regular contributor to NBA FanHouse and co-author of The Undisputed Guide to Pro Basketball History (visit the FreeDarko store, too!), is keeping a game-by-game diary of the Heat's season — the one you're pretending not to care about.
Result: Heat 101, Cavaliers 95
Record: 19-8
I call it the Game of the Year, and I don't back down one bit. Only in part because, in this new life I'm trying to lead, Twitter is bond — not ephemera. As of today, I'll take this one over anything the networks have scheduled for Christmas Day.
The Heat welcomed the Cavs to South Beach on Tuesday, and won handily without bothering to prove a point. Or so I'm told. I was watching the Knicks go toe-to-toe with the Celtics, losing only after Pierce jiggled his way to a game-winner. When Amar'e knocked down a three just after the buzzer, there was no waving off the celebration. Maybe they couldn't beat Boston, even a Boston team making do with bits and piece of Rondo and a depleted front court. But it was close throughout, and came down to the last possession in an utterly satisfying way — more than can be said for the Heat's battles with Boston.
In short, the Knicks don't only score like crazy and, in their own grimy way, carry on the legacy of Seven Seconds or Less. They are a very good team. Style and substance bound up in one, just like yours truly always wants it. That's where the Heat have us believing they are, too. There will be stars, and when they're gone, we'll be left with highlights and enduring images of grace. Not that Guernica-in-shorts shit the Celtics have as their signature.