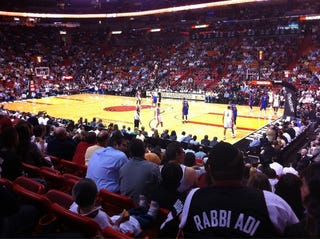 FreeDarko's Bethlehem Shoals, a regular contributor to NBA FanHouse and co-author of The Undisputed Guide to Pro Basketball History (visit the FreeDarko store, too!), is keeping a game-by-game diary of the Heat's season — the one you're pretending not to care about.
Results: Heat 113, Knicks 91; Heat 95, Wizards 94; Mavericks 98, Heat 96
Record: 21-9
Finally, a normal weekend for the Miami Heat. On Friday, they vanquished the Knicks (mere pretenders to the throne, it seems) in what yours truly had foolishly declared the Game of the Year. Saturday, the entire league reconfigured itself in a three-team blockbuster, presumably so Orlando could muster up enough firepower to keep up with its Sunshine State neighbor. When the NBA is an arms race for offense, rather than size, I would say we're headed in the right direction — and the Heat's presence has really begun to register.