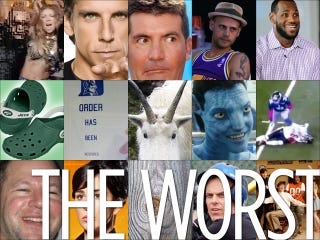 I love Worst of the Year articles. So let us now eschew all the good things from 2010 like Winter's Bone and iPad porn and spend some time wallowing in SHEER SUCK.
Critics are usually parsimonious with their Worst of 2010 lists. They always occupy a small box in the "Best of" feature, and they usually only cover five movies instead of the 30 or so I'd like to see tied to a post and lashed. Yeah yeah, asshole. We know you liked The Social Network. Get to the Sex and the City 2 bile POST HASTE.
So none of that "Best of" business for us today. No, we're spending this day rooting around in nothing but SHIT. The stinking, fetid, fecal remains of 2010. There was so much to hate about this year. In fact, it seems like every successive year living in America manages to top itself in moribund awfulness. You think 2009 sucked balls? WELL 2010 WILL TAKE THAT CHALLENGE AND THROW DOWN AN OIL SPILL TO UP THE FUCKING ANTE. The world is fucked up like that. So much so that our Worst of 2010 comes in two forms. You can read the awards down below. Or you can be bold and listen to a special Deadcast featuring myself and Leitch hating on shit for 50 minutes (iTunes link to the show here). Or you can do both and double the worstiness. If you're like me and enjoy hating things far more than you enjoy loving them, you know that's the way to go. Onto the awards!
Worst Song of 2010
What's that Black Eyed Peas one where they sample the Dirty Dancing song? That one. That's the worst fucking song in the universe. I haven't even heard it, and yet the song my imagination has built out of that idea is surely just as bad. Let me listen to it right now and make sure that's true.
GAHHH IT'S EVEN FUCKING WORSE THERE IS NO JESUS! IT'S LIKE YOUR MOTHER BEING KILLED AND SOMEONE AUTOTUNED HER SCREAMS OF AGONY!
Worst Movie of 2010
Because I only saw one movie in the theater this year (stupid kids), I leave this category to Leitch, who chose Little Fockers and Casey Affleck's The Killer Inside Me. I'm going to settle the tie by choosing Little Fockers, because it's the only one of those two movies to not feature Jessica Alba in a bra. I also have an irrational hatred of Ben Stiller. He strikes me as the kind of guy who won't make eye contact with production assistants.
Sex and the City 2 is absolved from this award because it engendered so much hatred that I'm glad everyone finally wised up and realized the whole SATC enterprise was worse than Idi Amin.
Worst Mail-In Job of 2010
Simon Cowell. Let me reiterate that Cowell got paid $45 million this year to JUDGE A FUCKING SINGING COMPETITION ONCE A WEEK FOR FIVE MONTHS OUT OF THE YEAR. That's it. That's all he has to do. And yet, he spent the entirety of 2010 acting as if that job was hard, as if it fucking exhausted him. Now, I sympathize somewhat. The singers on that show are fucking unbearable. But you don't half-ass it through a season when you're getting paid $45 million to do a job anyone with a British accent and a four-dollar haircut could do. Fuck you, Cowell. Take your v-neck shirt and fucking drown. If your name was Vince Carter, you'd be jailed by now.
Worst Fashion Trend of 2010
Worst TV Program of 2010
"The Decision." And I should note that LeBron James has done nothing since that program aired to convince me that the public made a mistake in branding him a narcissistic dipshit after that program aired. Craggs and the like will tell you that LeBron got too much heat for this show, and that LeBron was doing something (forgoing salary, looking to win) that we should applaud. But that doesn't matter in the grand scheme of things. What matters is that anyone watching that program that night watched it and thought, "God, this guy is a fucking piece of shit," and they were right for doing so.