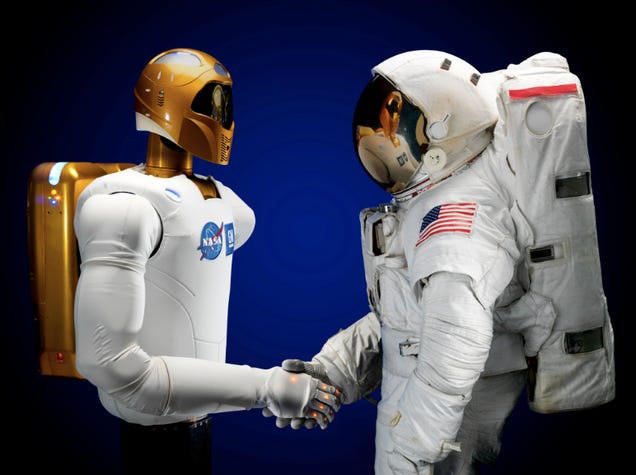 Four-and-a-half hours of pregame coverage is about to start on Fox. Water torture for the brain. So, here's a collection of Super Bowl XLV stories that have filtered in over the course of the past few days.
Even if you've already seen them, a second read is more entertaining than anything the Fox guys will/can/have the wherewithal to do, unless Caliendo mans up and does a dramatic Millyvegas segment with Howie and Terry guarding the bathroom door. You know, like any comedian with a shred of dignity would.
• Robonaut 2 is expected to "meddle" in the Super Bowl pregame festivities. [CNet]
• Should you take the over/under on number of Brett Favre mentions during the game? (The line's 2.5. The over will hit before the second Packers drive is complete, provided they're not three-and-outs.) [Stock Lemon] Here's a link to a bunch of other prop bets, too. [WERLV]
• Here's video of a game participant talking about pissing himself on the field. [Bob's Blitz]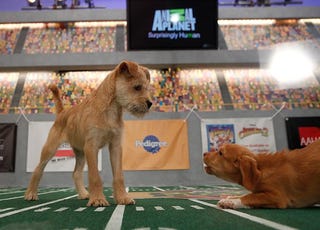 • Puppy Bowl VII starts at 3 p.m. [Animal Planet] Obama/O'Reilly starts [UPDATED] shortly before the game [Business Insider].
And, here's a "Counterprogramming Guide" [EW].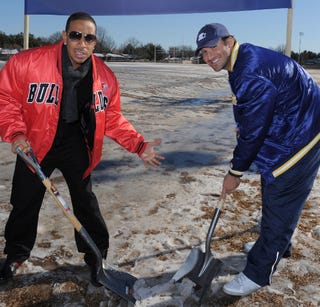 • Here's a totally random picture of "Dallas Cowboy's, QB, Tony Romo and singer/actor, Ludacris attempt to shovel out the Starter field in Dallas over Superbowl weekend." No further detail provided.
• A Steelers logo was shaved and painted into a Labradoodle's back by a dog-grooming outfit called Jimminy Clippers. [Daily Herald]
• Joe Montana met Inez Sainz. Want to see a picture of the moment? [BuzzFeed]
• A high-school art teacher from Daytona Beach, Fla. spent about 90 hours customizing his 1983 Mercedes Benz 300D into a rolling tribute to the AFC champions, and Troy Polamalu in particular. [YahooSports]
• Some players look like performers in summer music festivals. [Glide Magazine]
• Has the "Holy Grail" of Sports Films, A Copy Of Super Bowl I, Been Found? [Last Angry Fan]
• A Flowchart to Determine Which Team You Should Root for in Super Bowl XLV [Holy Taco]
• And this columnist seemed to find an apt opportunity to use Rodgers and donkey punch in the same sentence. [Blogland]
• Trent Dilfer and a token shot of cheese bras. Action. [Ball Hyped]
• "A new study published in the journal Clinical Cardiology reveals that a Super Bowl loss for a home team was associated with increased death rates in both men and women and in older individuals." [Science Blog]
• It's like What Women Want, but a cartoon. Or not. (NSFW if played too loudly) [WhileTheMenWatch]
• There are neighboring bars in Cave Creek, Arizona: a Steelers haven and a Packers spot. Two bars enter, one bar leaves. [AZ Central]
• And, finally, a column positing that pregame drama may top the game itself. [Pantagraph]