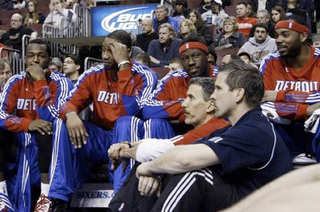 Your morning roundup for Feb. 26, the day San Francisco starts looking for messages in the snow.
• Seven Detroit Pistons decided not to show up for the team shoot-around (at all, or on time). "Sources" said it was a mutiny concocted to express displeasure with Coach John Kuester not getting fired during the All-Star Break. So, Kuester went with a six-man roster last night in Philadelphia; the box score shows five "coach's decision" benchings. The sixth, Tayshaun Prince, didn't play because of an upset tummy. When Kuester got ejected, the benchees giggled. Like schoolgirls. Point guard Will Bynum found the positives in a 14-point loss. [Free Press]
"Man, I got DNPs for a month and a half. Do you think I was going to turn down 48 minutes?" Bynum said with a laugh. "I ain't crazy."
• The Cleveland Cavaliers moved to within 4.5 games of the Eastern Conference's second-worst record with a six-point win over the New Look Knicks. [New York Post]
• Kobe 24, Blake 22. [LA Times]
• No, Bulls announcer Stacey King did not scare the hell out of supermarket patrons by carrying on about the cantaloupes being too small. [ChicagoNOW]
• A 33-year-old scout for the St. Louis Rams was arrested in Indianapolis yesterday for pissing on a building and exposing himself to a lady cop. When he tried speaking, it was "very slurred." Naughty boy. [Fox2]
• Tommy Morrison, self-proclaimed aficionado of daily unprotected HIV-positive sex, was arrested after Johnny Law allegedly found eight grams of weed during a traffic stop on the Kansas Turnpike. [NewsOK]