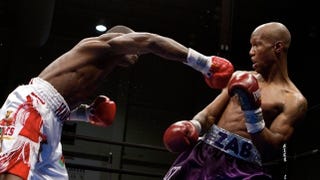 NEWARK — The fights Saturday night were in Newark. Not in the actual stadium, the Prudential Center, but next door, in a big, boxy, white warehouse where the New Jersey Devils practice. The ice rink was covered with a green, turf-like carpet that wasn't quite sized properly, resulting in large carpet waves that presented a serious tripping hazard. The atmosphere wasn't "international title fight" so much as "high school JV basketball game."
Additionally, the press section in which I sat was positioned diagonally off the corner of the ring, behind a pole. And on one side of the pole was the turnbuckle, and on the other side a cameraman. I could see only about 50 percent of the ring at any given time and was forced to lurch comically from side to side as the fighters moved back and forth in the ring. One of the fighters in the first bout of the night pulled down his trunks in the ring and later started a fight in the crowd, which earned him only a 20 percent penalty on his purse. New Jersey rules. The next fight featured Vinny O'Brien, a feather-haired welterweight with the look of the star of a 1980s boxing movie, taking on David Navarro, a prematurely balding Philadelphian with the look (and fighting style) of the anonymous opponent who gets knocked out in a 1980s boxing movie. As for the particulars of the fight, I will defer to my notes: "I am sitting behind a pole."
I can't fault the fight's promoters for not wasting the good seats on the non-paying press, of course. When you're staging a title fight on top of an ice rink in a glorified warehouse, you need to do everything you can to keep the paying customers happy. Such countermeasures included ring card girls who doubled as a dance troupe— instead of just waltzing around in a circle, a half-dozen of them came in between fights to perform some Dallas Cowboy cheerleader-esque routines. But sluttier. New Jersey rules.
The live pay-per-view action started with the next fight, in which Shemuel "The Chosen One" Pagan battered Marcos Garcia (who was "appearing in his fourth professional bout," code for an 0-3 record) for half a round before Garcia slid down the ropes and his trainer ran up to ringside, waving a white towel. Garcia's cornermen were both sporting t-shirts that read "Team Figueroa." When your own corner doesn't think you're worth the price of screenprinting two t-shirts, your chances are never good.
That farce was followed by Jersey City's own Jose Peralta— in extra-short blue trunks that he'd apparently stolen from a muay Thai fighter— taking on Clifford "The Magician" McPherson. The magic happened in the very first round, when the overmatched McPherson collapsed, clutching his wrist, and allowed himself to be counted out. He'd apparently broken his wrist, which saved him several rounds of beating by Peralta. A fair deal, for the fighter if not for the crowd.
So far, not the most shining night of boxing in Newark gymnasium history, and only two fights left to see something worthwhile. Tarvis Simms, a good but not great middleweight, faced John Mackey, who came into the ring in an exact replica of Mike Tyson's black-trunks-and-white-towel combo. The Tyson similarities ended there. Mackey had — and I say with total respect for the difficulty of the sport of boxing — the worst sense of distance I've ever seen in a professional boxer. He seemed to believe that his arms were much larger than they were. Or perhaps the neural pathway that connected his thoughts and intentions with his movements was just exceptionally slow. But several times he swung and whiffed on punches so violently that he spun himself around 90 degrees, once prompting a writer next to me in press row to break out laughing.
Tarvis Simms is a very textbook boxer: a southpaw, lead hand low, back hand up by his chin, standing very straight, advancing very deliberately. He moves cleanly, but is not particularly fast; his reflexes are precise, but not blinding. But he was able to walk in and hit Mackey at will, and then simply step back and watch Mackey flail at the air that Simms had occupied a second or two before. Simms's body is very solid, but unless he set his feet underneath himself and pushed off his back foot, he tended to throw weak arm punches. He could stop and push a hard right hand to the body that would knock Mackey backwards, but when he was moving his punches had no weight on them. Simms liked to jab, and he is a very methodical rhythm fighter, meaning he likes to set himself into a comfortable pattern of punching, moving, punching, moving. He looked preternaturally calm at all times. What Mackey should have done was to use his own jab to break up Simms's rhythm and stop him from getting comfortable. What Mackey did instead was to spend the first half of the fight paying Simms more respect than he deserved — fighting in retreat, never jabbing, and missing several swinging hooks by remarkable margins. In the later rounds, the two men started fighting inside more, nose to nose; but Mackey was a poor inside fighter in general, and Simms, who was at least technically decent at it, was still throwing arm punches, so no real damage was done on either side. Simms took a unanimous decision. Still, nothing to justify a $29.95 pay-per-view.
*
The crowd was restless. All of the hard rock guys who'd come with girls wearing absurdly provocative outfits just so they could stand next to them and look intimidating were doing just that. One girl idling on the bumpy green carpet had attended the match in fishnet stockings and the world's shortest pair of shorts. They were purple.
The star of the night was Zab Judah, the comeback kid, the Brooklyn boy who found Jesus and unretired and is, I suspect, just hunting for one last big money fight before he gives it up again. In his last fight, Zab had looked horribly gun shy, scared to engage, and generally washed up. Which didn't stop him from earning an undeserved decision in his favor. New Jersey rules.