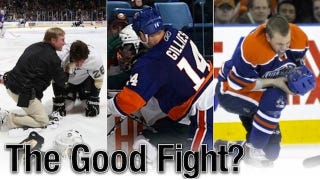 Try to justify the institution of the enforcer in hockey to an outsider, and you'll likely pull out the usual arguments. It's about protection, about fear, about retribution. So yes, on a basic level, it's about pain. But it's never, never about injury. So with two players still out in the wake of a one-goon rampage, and the number 1 overall draft pick done for the year, the familiar old question is surfacing with a new twist: is it time to rid hockey of the designated fighter?
On Long Island, Trevor Gillies has racked up quite the rap sheet over the past month. 3:41 of total ice time, and in that span, he's garnered 49 penalty minutes and separate 9- and 10-game suspensions. His victims were Pittsburgh's Eric Tangradi and Minnesota's Cal Clutterbuck, neither of which has been able to get back on the ice.
Make no mistake: Gillies has done exactly what he's been put on this earth to do. 220 PIM compared to 14 shots on goal in his short NHL career, and his minor league numbers look pretty much the same. This isn't a man who was signed to score points; he's here to hit people, and hit them repeatedly if need be.
This is a full-time job in today's NHL. Someone decided that Derek Boogaard, star instructor at hockey fight school for kids, is worth $6.6 million. You could populate a division's worth of fourth lines with guys who aren't expected to score a goal in their lives.