• Tipster Zachary P. writes, "there's a video being passed between Giants fans about a cab driver that looks freakishly like Tim Lincecum, although some allege that it's Lincecum himself. It's probably not since A. Why would he film this? B. That place does not look very nice C. Who the hell is Mikey?" [YouTube]
• In a novelty performance, the Miami Heat protected a late lead. With LeBron authority, no less. In doing so, they swept their season series against the Lakers. [Miami Herald]
• Charles Barkley calls Billy Packer a jackass and urges him to "shut the hell up." [Yahoo Sports]
• CBA expires at 11:59 p.m. [NFL] [NFLPA] [PFT]
• U Conn buzzer-beats Pitt [Hartford Courant]. The Jayhawks barely survive Oklahoma State [Kansas City Star]. Colorado upsets No. 23 Kansas State [Wichita Eagle].
• Amar'e Stoudemire scored 36 points in an 18-point loss to Dallas last night, but his 16th technical foul of the season might cost him one game. [ESPN New York]
• Arsenal manager Arsene Wenger calls UEFA a "dictatorship" for making a fuss after he complained about referees in the wake of his side's loss to Barcelona. To be fair, a bullshit second yellow card led to Robin van Persie's ejection from the game. To be even fairer, Barcelona would in all likelihood have won regardless. [Guardian]
• Per The Independent:
Fifa failed to act when warned that two international friendlies were being targeted by match-fixers nearly two weeks before they were played, officials from the Estonian football federation said yesterday. ...
All seven goals in the two games were penalties, with one of them taken twice after the first one was missed. Five million Euros (£4.3m) was bet on the Estonia match – an astonishing figure for such a low-profile match – although one leading British bookmaker pulled its market on the game before kick-off after becoming aware of significant moves in the Asian market.
Recently On Deadspin
A few stories you might've missed.
Tsunami: Coverage of the Pacific earthquake and tsunami from Kotaku, Gawker, Jalopnik, Gawker.TV, and Lifehacker.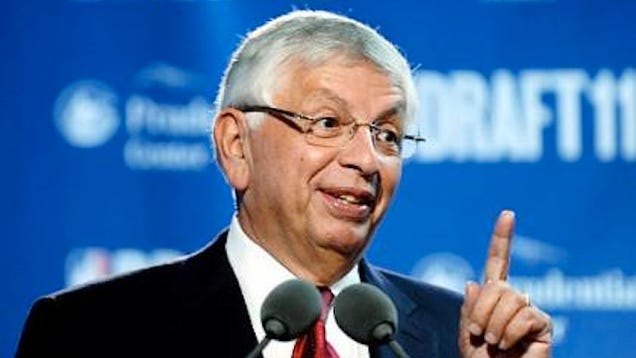 Sit Down, Shut Up: NBA Commissioner David Stern tells a radio guy that we won't be hearing much from Stan Van Gundy anymore.
Journey: Watch a 2,200-mile Appalachian Trail hike in four minutes.
The Beautiful Game: An animated tribute to Gareth Bale of Tottenham Hotspur's performances against Inter Milan.
LOLUVA: Watch how UVA blew its 10-point lead over Miami with 42 seconds to play.