• A Los Angeles television station slugged a story about some eatery fisticuffs as "Transvestites Taco Fight." As a description, it's simple and sufficient. The video's NSFW with volume. [KTLA]
• BYU's Jimmer Fredette dropped 33 on New Mexico in Vegas last night. That was in the first half. He scored 52 total and became BYU's all-time leading scorer. He topped his single-game record as well. Honor. [Deseret News]
• The Big East Final tonight pits UConn against Louisville. Both won their semifinal games in OT. [ESPN]
• Though ACC Player of the Year Nolan Smith "limped off the court with a toe injury of undetermined severity," Duke still beat Maryland 87-71. Determining that severity may or may not make a difference in the conference semifinals against Virginia Tech, who may or may not have actually beaten Florida State by a split-tenth-of-a-second at the buzzer. But the refs said Florida State's apparent game winner didn't leave Nole fingertip until the clock read 0:00, so it shall be. [Charlotte Observer]
• In whooping some Purdue ass in the Big 10 quarterfinals, Michigan State probably sealed a tourney bid. [Free Press]
• The Spartans will face a Penn State squad that scored 36 points in its win over Wisconsin last night. [Centre Daily Times]
• Twins first-baseman Justin Morneau was back on the field for a Spring Training game eight months after his 2010 season ended via concussion. He said, "When I got hurt, I didn't think I was going be out that long, going to be hurt that bad. It was a while, but hopefully this is the first big step towards Opening Day or towards being in the lineup in the regular season."[MLB.com] Here's video.
• Well, whatdaya know: The NBA rescinded a technical foul issued to Amar'e Stoudemire in Thursday night's loss to Dallas. Now, he doesn't face a one-game suspension. [New York Daily News]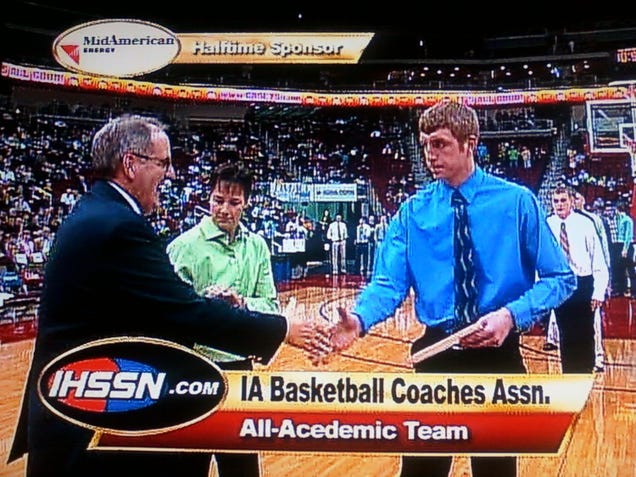 • For whatever reason, tipster Nick H. was watching halftime of the Iowa class 2A championship game, when they honored the All-Academic Team. He provided the photo which shows that graphics guy (or gal) is not that strong a speller. [IHSSN, via IowaBCA]
• NFL owners went ahead and imposed a lockout after the NFLPA decertified itself in an effort to prevent one. [New York Post]
• Brian Dawkins — the hard-hitting former Philadelphia Eagle and current Denver Bronco — got to talking about concussions in the wake of Dave Duerson's suicide.
Here's what he said:
"Sometimes things are not just hitting home but smashing you in the face. Like when tragedy happens, it makes you think about things on a different plateau, you begin to think about things on a different level. It's a concern, and it should be a concern to everybody." [Philadelphia Sports Daily]
• An ESPN radio guy whose DUI arrest resulted in one boss mugshot had some weed residue on his shirt at the time of his encounter with Skokie, Ill. lawmen.
When asked about the odor by police, [WMVP's Harry] Teinowitz said the car was recently parked by a valet and those who parked it must have smoked inside, police said. [Sun Times]
• In today's sixth-round FA Cup matches, Birmingham City faces Bolton (it started around 7:45 a.m. eastern) and Manchester United is up against Arsenal, which promises to be either an excellent match or a total meltdown once it starts around 12:15 p.m. [FA Cup Fixtures]
Recently On Deadspin
A few stories you might've missed.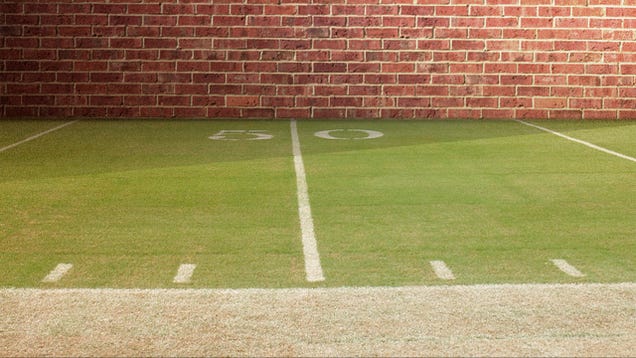 Are You Ready For Some Decertification? DeMaurice Smith is still the executive director of something. Himself.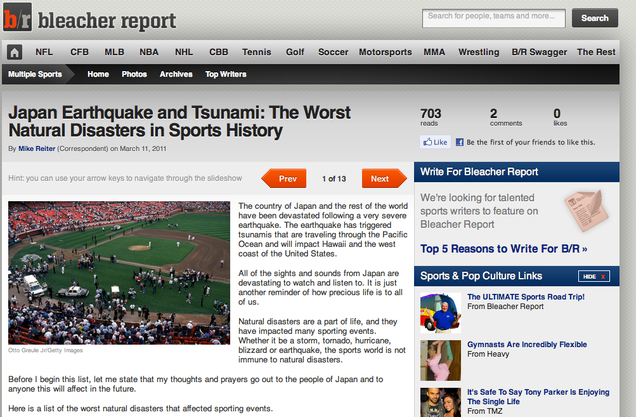 But What Did The Tsunami Mean For Sports Lists? For one shining moment, the Japanese earthquake stood as Bleacher Report's segue into a list of sporting disasters. Alas, the shining moment wasn't long enough to check whether marathoning defecation made the cut. O an they apologetic.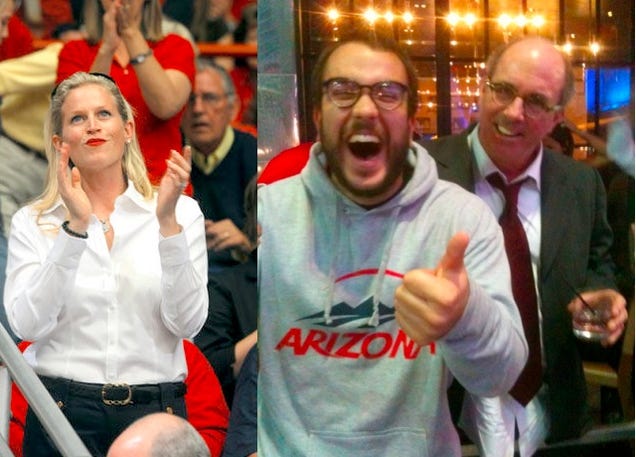 Asshole Reassertion: USC coach Kevin O'Neill, his blushing bride and a 60-something Arizona booster were involved in something between a barroom shoutfest and Antietam. Whatever it was, it lacked l'amour. By way of update, O'Neill has been suspended.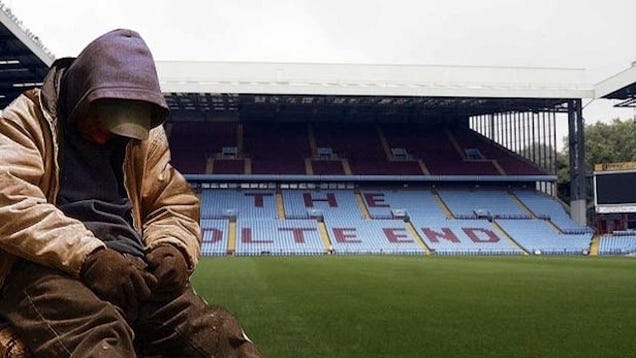 Hermit Is Britspeak For Hobo: How the "terrace tramp" managed to live at Aston Villa's stadium undetected for a spell is anyone's guess.