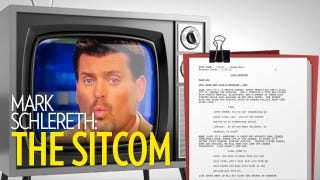 CBS has ordered a pilot for Home Game, a sitcom about Mark Schlereth, ESPN analyst and former Broncos/Redskins guard. Why? It's unclear.
Here's what Schlereth wrote on his blog:
Somebody's a producer! What an unbelievable ride it's been since last July at the ESPY's…That's where it all started, the seminal event if you will, where an idea was born! I was swapping stories with Peter Sussman and Steve Levinson (Leverage) at an ESPY's after party, you know, guy talk, chalk full of false bravado and embellished half truths. We were constantly interrupted by current players with obvious intentions. "Hey Mark, I'm So and So from the whoever I play for," before I could get out the obligatory, " great to meet you So and So," they had already spun a 180 and were spitting out their "A" games at the beautiful young ladies a few feet away…my daughters!!!! Between incessant ribbing from Steve and Peter and breaking up one player's advances toward my smokin hot wife a show idea was born and the rest as they say is history!
So, if you didn't follow: two guys from Leverage, Mark Wahlberg's production company, approached Schlereth at an ESPYs afterparty. They had some guy talk. And now there's a sitcom pilot based on his life. He's producing, as are his wife and daughter. The ESPYs are the worst.
This pilot is not as heinous as the Colin Cowherd pilot (also being developed for CBS). Rather, it brings us depressingly formulaic bewildered-father-with-teenage-daughters hijinks of which America had tired the moment Just the Ten of Us went off the air.