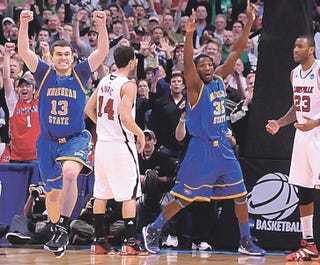 Your morning roundup for March 18, the day the world braces for the biggest, brightest full moon in a while.
• Before he took the winning shot in the tournament's grandest upset-to-date, Morehead State's Demonte Harper had scored a scant eight points. Coach Donnie Tyndall gave him the rock anyway. Said Harper afterward, "As we broke the huddle, I told coach I would make it, I felt all along that I would ... and I did." [The Morehead News]
• During his report on San Diego State's first-ever tourney win, an ABC-affiliate sports director named Ben Higgins almost got smacked by an uncaring SUV. Dude didn't get ruffled, but seemed to think he was on the edge of death. Here's video. [10News.com] (H/T Jermaine O.)
• Tipster Andrew B. found it unnecessary for CBS to point out the difference in colors between BYU and Wofford, so he sent a screen grab, subject-lined "Stating the obvious?" [Wofford.edu]
• John Avello, the head of the sportsbook (and linesmaker) at Wynn Hotel and Casino in Vegas, talked some tourney the other day. He talked about the recession's impact on gambling and more. [CY Interview]
"Let's face it, you only have to pick one team against the other and if you do a fair amount of handicapping and you think you have a little bit of edge, you're gonna apply it over here at the sportsbook on a game and that's what's happened not just over the last couple of years, but for a long time going back. But what's happened over the last maybe 10 years or so is there's more information out there now for the gambler. Internet can supply him with newspapers from around the country and he has accessible information to players and other happenings of teams and events."
• The New York Post went with the understated headline of "Dead Storm" regarding St. John's "crushing 86-71 loss to Gonzaga." Senior Dwight Hardy of The Bronx said, "I mean, we're crying right now." Such devastation. Here's hoping Dwight is able to find some sense of normalcy in this cold, cruel world. [New York Post]
• ESPN college basketball analyst Doug Gottlieb forgot to turn his cell phone off before he went on national-cable TV to discuss his Final Four picks. [Yahoo Sports]