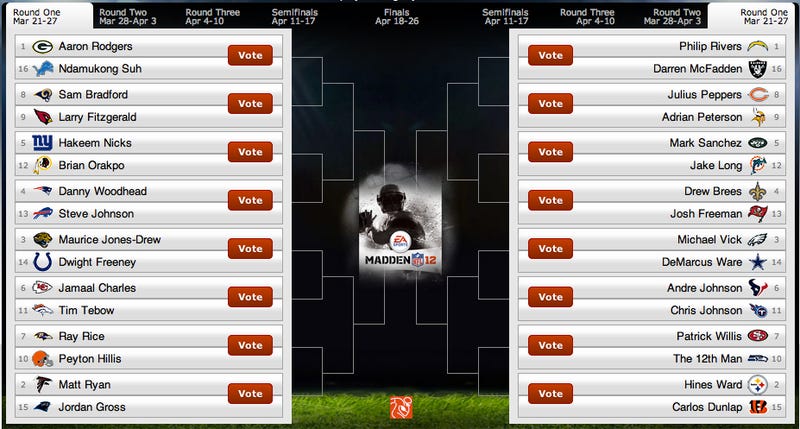 Madden NFL 12 is the most important video game of all time, topping previous title-holder Madden 11, which usurped the title from Madden 10, etc, etc. Same game, a couple new features, and most notably, a new cover athlete. The Madden Cover jinx is a thing of the past, but it's still quite the honor.
That's why we're surprised that EA is partnering with ESPN to allow fan voting to decide the cover athlete, in a monthlong, 32-player bracket. Sure, maybe they'll rig the thing to get the obvious deserving candidate, a win. But what if it's transparent? What if the historically stupid SportsNation electorate decides this thing? Or what if a devoted group of mischief-makers champions the candidate most likely to cause a shitstorm? We proudly present the Deadspin Voters' Guide to Madden 12.
•Aaron Rodgers Star young QB, Super Bowl MVP. Should definitely win. Will probably win, even if EA has to "throw out suspicious votes." But a vote for Aaron Rodgers is a vote for bland establishment. Certainly we can do better.
•Michael Vick Our first, and most plausible shitstorm. Vick, you might remember, killed a bunch of dogs a while ago. Many people are still upset about this, and continue to get upset when Vick does things like make the playoffs or get booked to go on Oprah. They would presumably also get upset if Vick were to make the cover of the most prestigious only NFL video game. (Michelle Beadle's already dreading Vick's appearance on today's SportsNation.) Lots of angry loud people would make us smile. Vote Vick.
•Peyton Hillis Cons: may not have staying power, like previous cover boys Vince Young and declining Shaun Alexander. Pros: is white, like previous cover boys Brett Favre and...no one else since John Madden was on the cover every year. But not as white as...
•Danny Woodhead Yes, last year's second leading rusher and sixth leading receiver on a team that bowed out in its first playoff game is here. But it's more than stats. It's scrappiness, and heart, and melanin. If New England's fans are as numerous as their volume would make it appear, Woodhead could actually win this thing.