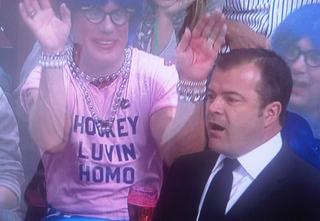 Your morning roundup for April 1, the day you are permitted to seek vengeance against anybody who you think has wronged you, with no legal ramifications whatsoever.
• Upon viewing screen shots from tipsters JD and Paul H from last night's 3-1 Vancouver Canucks win over the mighty Los Angeles Kings, the initial reaction was "potential April Fools' photo shop." Nope. Hockey Luvin Homo is here, so get used to it. In wholly inferior news, the Canucks claimed their first President's Cup ever with the win. [Vancouver Sun]
• Hockey Luvin Homo: Not an April Fools' joke. How about a website's claim that they have photographs of Barry Bonds's testicles? [BallHyped]
• Comic Sans Alert! [Zap 2 It]
• Congratulations go out to Albert Pujols of the St. Louis Cardinals for becoming the first player in Major League Baseball history to hit into three double-plays on Opening Day. In all, Pujols was responsible for eight outs in the game. [Rumors and Rants]
"It's just a bad game, man," Pujols said. "What, am I going to shoot myself up? It's just a bad game, and that's it."
• The Wichita State Shockers totally won the NIT over Alabama last night.
"I'm never going to forget it," WSU senior J.T. Durley said. "I'm a champion. We're tough, and we pulled it out."
Aw, what adorable wittle champions. Yes they are! [Wichita Eagle]
• Sidney Crosby is said to have looked "good" at the Penguins morning skate-around yesterday. But concussion-afflicted Crosby doesn't know if/when he'll look "good" in a real game. [Pittsburgh Post-Gazette]
• Wizards rookie John Wall got suspended for one game without pay while Zydrunas Ilgauskas and Juwan Howard of the Heat were fined because of that whole elbow-punching incident the other night.