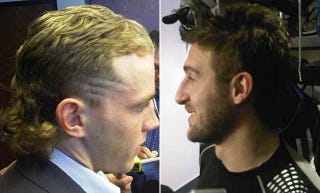 Your morning roundup for April 13, the day Justin Bieber reminded us that the Middle East is still fucked up.
• Hey, everybody, it's time to come out of hibernation and start paying attention to the NHL again! The playoffs start tonight. You've got Coyotes-Red Wings (on Versus), Lightning-Penguins and Rangers-Capitals making up the early games, with Blackhawks-Canucks (also on Versus) and Predators-Ducks as the late ones. These will all be good games, because this is playoff hockey, and you like playoff hockey, damn it!
• The Blackhawks and Canucks have already traded barbs over the above mullets. Says Tanner Glass, owner of the mullet on your right, "It's embarrassing. [Kane] kind of mocks the mullet. I'm not too pleased with that to be honest." Replied Kane, "I'm actually kind of using mine as a joke, so if he's insulted, you can tell him it's a joke." I mean, come on. Playoff hockey! An irony-free zone.
• Phoenix got a bit of good news, as Red Wings forward Henrik Zetterberg was ruled out of the series opener, with, ah, yes, the dreaded lower-body injury. And Niklas Kronwall is unsure whether he'll skate, due to an upper-body injury. Seems like the Detroit training staff isn't doing a very good job dealing with one particular part of the body: the body. These teams went seven games in the first round last year: get your, uh, burritos and coney dogs ready.
• Meanwhile, in assuredly non-playoff hockey, the Stars fired Marc Crawford, their head coach, after again falling short of the playoffs. The wretched Oilers survived the NHL's perplexing draft lottery and will pick first again this year. Kill Pocklington!
• Derrick Rose did his thing against the Knicks last night, putting up 26 points and this bonkers jam. Carlos Boozer had 22 rebounds—the Knicks had 33. But don't worry, though, Ronny Turiaf brings his extra mustard in the playoffs.
• The Rays and Red Sox were both 2-8 going into last night's game at Fenway. Tampa won, yet again. The nation is fackin' worried.
• The Lakers won, but Andrew Bynum hurt his surgically repaired knee again. The NBA: where the same shit happens, again and again.
Recently On Deadspin
A few stories you might've missed yesterday.
Cracked: In which Bobby Valentine, ESPN analyst and titan of municipal government, believes that Josh Hamilton's drug problem made him try to take an extra base. Also, painkillers regrow your radius and ulna.