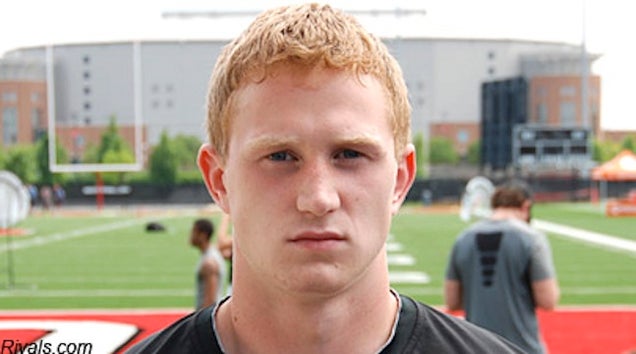 S
It was more than four years ago that this very site brought you the story of Ben Onett, a 13-year-old New Hampshire quarterback who was already thinking college recruiting. His lovably low-tech scouting profile, set up by his family, still exists, but it's an artifact of a simpler time. Now this stuff is commonplace, like with barely pubescent David Sills "committing" to USC, and it's still all publicity stunting, but we've learned to accept that college sports are weird and wrong and that there are worse things to get bent out of shape over. (Even our headline seems naive: when's the last time we expected our NCAA stars to be in school for the "enjoyment of sport"?)
But Ben Onett isn't just an icon of the time we all decided to say "fuck it, shady recruiting people, do what you want." He's a real kid, who's still playing football, and is about to end up playing football at a Division 1 school.
Since we last checked in he's transferred twice, first from sleepy New Hampshire to ranked Central Catholic in Lawrence, Mass., then to regional power St. John's College HS in Washington, DC, where he'll graduate from in 2012. He's part of the ESPN-sponsored QB camp making stops across the country at BCS powerhouse schools.
Why, he's even got an offer in hand from Temple University, and is on the radar of several good programs.
As media glare finds younger and younger prospects, those 13-year-olds become part of the scenery. But Onett, as one of the earliest ones, provides the first of many test cases to see how that premature spotlight can help, or hurt, genuinely talented kids who just want to play football somewhere good. We'll be watching.
[h/t to Ben Onett's father, who sent in this news to us twice, once with a fake name, but both times took exception with our original encouragement for the kid to "accept his limitations."]

It's Never Too Early To Ruin A Kid's Enjoyment Of Sport [Deadspin]
8th Grade QB Ben Onett [QBScout]