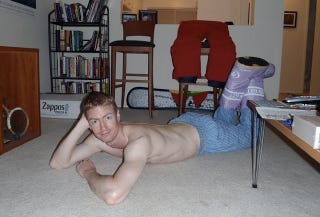 Tipster Josh has a story to share. So, listen up:
I'm sure you recall Moon Boot Guy from your post after Game 2 of the Heat-Mavs series.

I have a few friends that are from South Florida that I had bet against for the series, and had obviously highlighted this picture to them after your post. I had not yet received payment from one of these friends but yesterday a package arrived at my place containing my very own pair of purple Moon Boots, presumably in lieu of cash to settle our wager. I decided to do a little fashion shoot in them, the results are below. Enjoy...

Oh, and as you can see by the last picture in the series, I am the guy who commissioned the "Three Queens" painting - prints available on ebay!