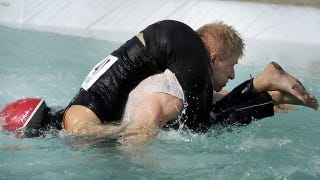 With Kristiina Haapanen's legs wrapped around his head as an estimated 6,500 fans looked on, Taisto Miettinen sprinted 276 yards, jumped a few hurdles and navigated a "water pool" in Sonkajärvi, Finland in about a minute to defeat 46 other couples at the annual Wife-Carrying World Championships.
The victory marked the first three-peat in the 16-year history of a competition with patently noble roots.
The competition has its roots in the legend of local bandit Herkko Rosvo-Ronkainen who lived in the forest at the end of the 19th century and stole food - and sometimes girls - from nearby villages.

"The course was trickier this year due to the water obstacle, which was deeper," said Miettinen. ...

He and his "wife" - for Haapanen is just a friend - are the first pair in the event's 16-year history to win three times in a row.
Finn couple bags 14th Wife Carrying World Championships (2009) [YouTube]
Finland again wins wife carrying world championships [YLE]