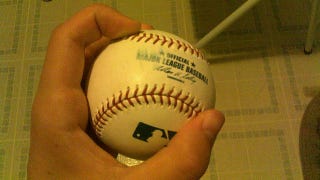 Derek Jeter gave me the only baseball I ever got at a game. It was spring training in Tampa, and I was watching the Yankees practice from behind the dugout. Jeter jogged in with a ball, about to give it to the crowd. At first, I started to wave for it, but then, noticing the other 20 similarly aged kids around me doing the exact same thing, I figured it was pointless. I just sat there with a wry smile as Jeter looked around to see which pair of frantic, gesticulating hands seemed most deserving. But none of them got it. He looked at me, matched my expression, and flipped me the baseball.
That moment says very little to me about Jeter. It could have happened with any player and any personality. Imagine Barry Bonds doing the same thing. "Of course that jackass gives the ball to the least-interested kid," the parent two seats away would have said. I don't know Jeter. I won't draw any conclusions about his personality from this moment, just as I won't draw any conclusions about his abilities from the leadoff home run in the 2000 World Series or his November walkoff in 2001. They are all small sample sizes.
So was Saturday. Going by his career norms, Jeter's 3,000th hit shouldn't have been a home run. He shouldn't have had the best offensive day of his life. It was a coincidence. That is far from a knock on the Captain; it's a criticism of the people who think it is possible for a player like that to exist. He treats every situation the same, we're told, and yet he also rises to the occasion. He was always a great fielder, yet he deserves credit for correcting a severe, long-standing fielding flaw. He ages less than a year per year. Jeter has always been too many fantasies at once.