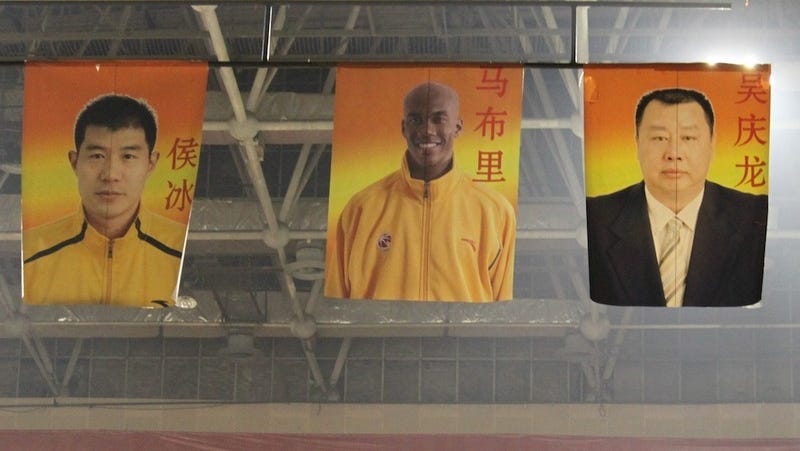 Every week, SportsFeat picks a few great reads for Deadspin. Thanks to Yao Ming's retirement and Deron Williams's Turkish tour, here are some classics on the foreign wanderings of professional basketball players. Enjoy.
For a daily selection of top-shelf sports writing, both new stuff and classics, check out SportsFeat.com or follow @sportsfeat on Twitter.
Welcome to the Far Eastern Conference

Wells Tower • GQ • May 2001
A trip to visit Stephon Marbury in China ends with a thud as the former New York Knick becomes a former Shanxi Brave Dragon:
"It's bullshit," he said. "But you know, the good thing about this situation, at least I know it wasn't anything I did. You know what I've learned in my trials and my errors in the last three years? You can't let anguish derail you. People are gonna say, 'Oh, Stephon went to China. He messed up, and look what happened.' But I know the truth. This is a time of growth right here. This will work out for the best. I'm just gonna go to Beijing and find another team."

But this seemed an impossible ambition. The season started in less than two weeks, and presumably all the contracts for foreign players had been settled months ago. Marbury's position was, I felt, sad. Surprisingly so. Or, rather, it was really surprising to find oneself suddenly sickened with sympathy for an international sports celebrity with more money to his name than many American small towns.

Then again, it's never pleasant to see anyone's dream collapse, and Marbury's dream of China was about the vastest, most ornately bespired cathedral of ambition I'd ever met anyone trying to build. It contained, so far, $10 million of his own personal cash, one year of his life, the adoration of some number of thousands of Chinese people, putative fame and wealth in India and unspecified countries throughout Africa, his own personal city in South Carolina, skyscrapers, and Marbury's left arm, indelibly inscribed ♥ CHINA.

When such an extraordinary volume of wishes comes abruptly to earth, you can't help but feel the ground quiver the tiniest little bit.

Peter Hessler • New Yorker • December 2003
On Yao's childhood, the challenges of coming to Houston, and the trickiness of going back:
"In China, the goal has always been to glorify the country," Yao said. "I'm not opposed to that. But I personally don't believe that that should be the entire purpose of athletics. I also have personal reasons for playing. We shouldn't entirely get rid of the nationalism, but I do think that the meaning of sport needs to change. I want people in China to know that part of why I play basketball is simply personal. In the eyes of Americans, if I fail then I fail. It's just me. But for the Chinese if I fail then that means that thousands of other people fail along with me. They feel as if I'm representing them."

I asked about the pressure. "It's like a sword," he said. "You can hold it with the blade out or with the blade pointing toward yourself."
The Legend Of Black Superman: Billy Ray Bates, Flying High In The Philippines