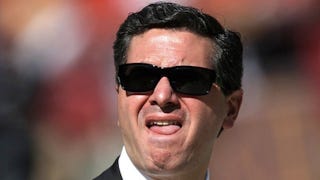 The ACLU filed a brief yesterday in D.C. Superior Court slamming Dan Snyder for his dumbass libel lawsuit against the Washington City Paper and asking the court to toss out the case. D.C. councilmember Mary Cheh joined the brief, along with a raft of influential news organizations such as The American Society of News Editors, The Society of Professional Journalists, NPR, Politico, and Atlantic Media.
If any of you have forgotten, Snyder is ticked off about Dave McKenna's brilliant "Cranky Redskins Fan's Guide to Dan Snyder," which laced up Snyder as a team owner and a businessman. Nothing in McKenna's story rose to the level of libel. But that didn't stop Snyder from suing. His is a bullying lawsuit designed to stifle free speech, and that's essentially what the ACLU et al. told the court yesterday.
The brief does not bode well for a dumbass like Snyder. DC has a strong "anti-SLAPP" law that protects against precisely the kind of litigious strongarming Snyder has undertaken. The law was enacted on March 31, 2011. Snyder filed suit a few weeks later, after letting his case play out unsuccessfully for months in New York court. That's pretty dumb.