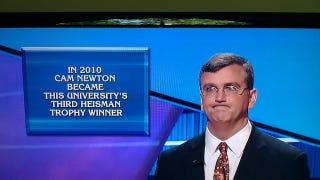 Your p.m. roundup for July 20, the day you learned you went to a really douchey college. H/T to Mike and Ben for the photo. Got any stories or photos for us? Tip your editors.
What we're watching (all times EDT, unless noted): Oh, shit. It's starting again, isn't it? It's the latter half of July, which means seemingly anyone with any opinion about anything in baseball is going to be trafficking in trade rumors and possibilities. Buster Olney got the rumor roulette started by reporting today that the Mets do not plan to move Jose Reyes. Which will be true up to and until a deal is actually done, unless of course it isn't. This is not to pick on Olney, per se, but rather on a system that treats every not-yet-done deal as newsworthy, when in fact such leaks are often an attempt on the part of front-office personnel to use reporters to impact the value of a given trade. The Mets, for all we know, may have every intention of moving Reyes, especially because this is his walk year. But you're never going to hear them say so, since other teams are likely willing to offer many more goodies if they know Reyes might be a tough get. Which he might yet be. But unless someone like Sandy Alderson is going to come right out and confirm for the record what Olney's sources told him, just let us know once it's done, one way or another, please.
Cardinals-Mets is on ESPN tonight at 7, with ESPN2 showing a World Football Challenge match featuring Guadalajara against Real Madrid at 11.
Read Me: Today's Story That Doesn't Suck
Where did hair metal come from?: "Like it or not, hair metal is the logical next step after the New York Dolls, who never had much in common with the bands they inspired. First-generation punks took more cues from nihilistic Detroit acts like the MC5 than from the pop sensibilities of the Dolls. The New York Dolls didn't create punk's aesthetic of torn clothing (that came from Richard Hell three or four years later); they were too busy slipping into high heels and applying make-up. They certainly didn't have much in common musically or aesthetically with their biggest fan, Morrissey, whose band the Smiths created maudlin melodies to match angst-ridden lyrics espousing vegan ideology. And aside from Michael Stipe's own flirtations with androgyny, the earnest, socially aware band that served as my gateway to the Dolls bore little to no resemblance (except perhaps during their glam-grunge Monster years)." [PopMatters]
This Date In Deadspin History
July 20, 2007: The Kansas City T-Bones, The Universe, And Everything