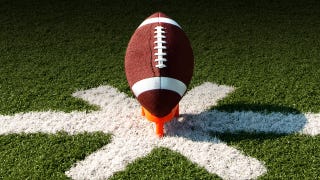 The NFL lockout is supposed to end this week, possibly as early as today. And Lord help me, IT BETTER, or else I will personally void my bowels on Logan Mankins's head.
I don't know about you, but the lockout has lasted so long that I have legitimately forgotten many things about the current working state of the NFL. Since March, I've been unable to focus on anything other than "leverage" and "breakthroughs" and "what a huge pussy Roger Goddell is." I've forgotten some of the more important changes in the sport since we last left it. Did you know that Jeremy Shockey is a Panther now? I completely forgot about that. I'm not sure I ever knew it to begin with, because Jeremy Shockey BLOWS. But that's the kind of stuff that's going to float back up to the surface after this lockout is over. IT WILL ALL START COMING BACK TO YOU. So before the lockout ends and mass hysteria begins, allow me to quickly guide you through a couple of things.
All scoring plays are now subject to replay review and coaches don't have to use their challenges flags for them. I swear I don't remember this happening. This rule essentially serves to partially neutralize your team's head coach fucking up his use of the challenge flags on touchdowns and field goals. So it's a mild relief to anyone who roots for the Bears or Eagles. But coaches will still be able to challenge the usual nagging things like turnovers, the spot of the ball, and control of the ball on a reception. I don't know why the NFL doesn't just go all the way and get rid of the challenges and make any questionable play subject to a booth review. They're clearly heading in that direction, and people are probably less inclined to bitch about it lengthening games in the age of DVRs.
One drawback to this rule is that it will ratchet up the existential dread you feel when your team scores a touchdown you know ought to be overturned. That's a horrible moment, when you think you're about to get away with a touchdown but OH GOD SOMEONE MIGHT THROW A CHALLENGE FLAG. Then you have to sit there for two minutes and will Lovie Smith to not throw the flag, and then sigh with relief when he happily obliges you.
Kickoffs are now from the 35-yard-line. This means more touchbacks, which means less awesome kickoff return TDs. I would be upset about this, except for the fact that when I play fantasy football, I ALWAYS somehow face the team that got a kickoff return touchdown that week, which is ASS BULLSHIT. Speaking of fantasy…
Your Lindys fantasy football guide is even more worthless than usual. Every summer, the folks at Lindys and Street & Smith's publish dead-tree fantasy football guides early in the summer that always, by September, feel hilariously dated. But they outdid themselves this year, with Lindys publishing a fantasy guide in June, well before the lockout was over. The guide reflects NO free agency moves. For all I know, it contains nothing but 200 pages of Scorpions lyrics because no one purchased it.
The 18-game schedule is dead for at least two years. I asked Mike Florio, who you know best as the progenitor of the Great Moments in Poop series, about why we haven't heard about 18 games in these final CBA talks. He says: