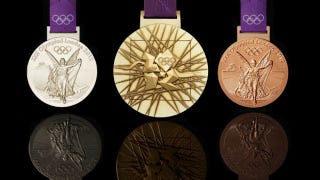 With a year to go before the London Games, they've been having all sorts of ceremonies to start the countdown. Today saw the unveiling of the designs for the medals, which will be the heaviest (though not the largest) ever handed out.
They're also sort of ugly? Certainly the fruit of design-by-committee, there's a whole lot going on. The front features "Nike, the Greek Goddess of Victory, stepping out of the Parthenon to arrive in the host city. The front side also shows a bowl resembling an amphitheater, with the medal's overall circular shape a symbol of the world."
And the back has the much-maligned 2012 logo, over a representation of the Thames and a grid of lines that looks like a game of Kerplunk. Sum it up for us, grandiose press release!