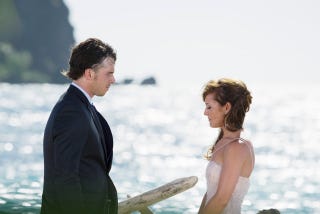 Like images of Jesus on pancakes, toast and frying pans, reflections of the Virgin Mary in windows, or a Leprechaun sighting in an Alabama tree, dongs are all around us.
They're prominent when "Ben the Winemaker" grapples with his go-home-loveless Bachelorette scene (captured by Matt Klitscher/ABC).
And serving as the "Bachelorette Rose Ceremony" itself. (H/T Lauren A.).
They're on Dwyane Wade's dinner plate. (Sportress of Blogitude)
Along Tropical Storm Emily's path. (Erica H)
Molded into a "random corkboard in an Ogden, Utah bar bathroom." (Jason W)
Serving as part of the answer of what tipster Joshua A. called a Jeopardy! "dong nut prop more like a mushroom tip."
On images of what may be an alien craft on the bottom of the ocean. (Gizmodo)