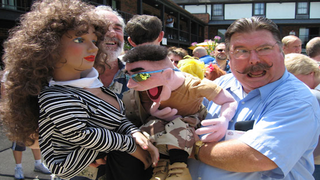 Your p.m. roundup for Aug. 5, the day the BBC reported killer plants ate blue tits. Got any stories or photos for us? Tip your editors.
What we're watching (all times EDT, unless noted): Golf Channel has the second round of the Reno-Tahoe Open at 6:30 p.m. MLB Network has either Yankees-Red Sox or A's-Rays at 7. ESPN2 has a junior welterweight bout between Vernon Paris and Tim Coleman at 9, with tennis' Mercury Insurance Open quarterfinals to follow at 11.
Read Me: Today's Story That Doesn't Suck
This is a story about dummies: "At the convention, the puppets are a slim but boisterous majority. They crowd in around you. They critique you. They grope you. They chatter continuously. Being around them approximates what it would be like to read people's minds. It is a most unpleasant experience - a great deal more unsettling, of course, isn't what they say but that they say anything at all. All over the hotel, in conference rooms, in hallways, at the bar, ventriloquism is practiced in its purest form: not as a stage show, but as an ongoing, unscripted social interaction, a live conversation between humans and their golems. At a drunken party one night, in the hotel's "hospitality suite," I witness one dummy operating another dummy, as the human source of both voices sits silently nearby, pretending to compose a text message. The mini bar has lips, which cruelly insult anyone who walks by, the origin of its voice impossible to determine. Almost as soon as I join the party, I am molested by a busty lady puppet, a faded showgirl. She swoons onto my shoulder. "Godaaamn," she slurs. "Where have you been?" Her vent is a burly, unsmiling dude with a shaved head, a muscle shirt, and camo shorts. He smells strongly of whiskey." [Paris Review]
This Date In Deadspin History
Aug. 5, 2008: Get Away From Me Rachel Nichols!