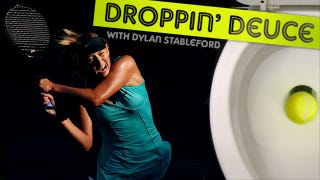 For two weeks every year, hardened New Yorkers become prissy tennis fans, and Queens—not the Bronx—becomes the sports capital of the Big Apple. You could argue that the U.S. Open is, perennially, the biggest sporting event in New York, with the possible exceptions of the '94 Rangers-Knicks run and 2000 Subway Series. It's the Super Bowl of American tennis. And this year's tournament (more than in recent years anyway) is wide open. All of the favorites (Djokovic, Nadal, Federer, Serena and Sharapova) are flawed, and that's what's going to make it exciting.
Below, I've compiled 11 things to look for during the Flushing fortnight.
The Ovas
As usual, there's an "ova" overload on the women's side: 20 of the 112 players (not including qualifiers, where there are at least four more) have surnames ending in "ova." They start and end with Maria Sharapova, who is coming into this year's U.S. Open with her best chance since a shoulder surgery that's taken close to three years to recover from. She reached the French Open semis and the Wimbledon final, and a won a bitterly contested final in Cincinnati against Jelena Jankovic, whose coach spent the bulk of the match in the front row barking over Sharapova's right shoulder. She's by far the toughest competitor on the women's tour, a trait that makes her wildly lucrative off-court career (latest brand extension: a candy line called "Sugarpova") seem the way it should be: secondary. And in the quarters, Sugarpova could exact a little revenge on Petra Kvitova, who dominated her in the Wimbledon final.
The Big Three
They are: Novak Djokovic, Rafael Nadal and Roger Federer. The top three seeds have big games. But, at least this year, each have big flaws. Djokovic, the top-ranked player in the world, is 57-2 in 2011, with his two losses coming to Federer at the French Open, which ended his magical 43-match winning streak, and Andy Murray, the fourth seed, in Cincinnati last week. Despite what the New York Times might have you believe, the problem for Djovokic isn't marketing—he's by far the funniest, most charismatic and outspoken player on tour (see his impromptu post-match exhibition against Johnny Mac in 2009, or his on-air comparison of the feeling of shade after winning a five-set match in 100-degree-heat to "sleeping with my girlfriend"). It's his shoulder, which gave out against Murray, forcing him to retire. There's talk that the stringy Serb may be too stringy, and an exhausting career year may be finally catching up with his Gumby-like frame.
"I think he's probably too skinny," McEnroe said of Djokovic a few years ago—and that was before he went gluten-free.
Federer has faded in fatherhood, however subtly. And I predicted that Nadal, after winning the 2010 U.S. Open to complete his career grand slam, would never win another one.