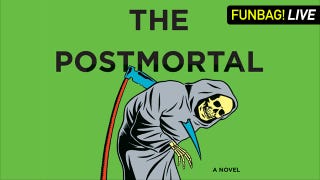 Time for your weekly edition of the Deadspin Funbag. Find more of Drew's stuff at KSK or on Twitter. Buy Drew's new book, The Postmortal, through here. Email the Funbag here. Today, we're fucking it and doing it live.
Two and a half years ago, I was laid off from my day job in advertising. And since I had to find a way to make enough money to support my family (blogging didn't quite make up the difference), I knew I had to do something productive with all of the newfound free time I had. Something big. I don't know if this is true of every dad, but when I had my first kid, some kind of Ambition Gene got triggered in my brain. I saw the new baby and my first thought, apart from "Does its head stay that shape?", was OH SWEET JESUS FUCK I GOTTA MAKE SOME MONEY. A lot of money. So much money that I didn't even bother putting a specific dollar amount on it, because kids require a lifetime of earnings so mountainous that to try and comprehend it will cause you to have a nervous breakdown. I knew I had to do something really ambitious, and I had to bust my nuts doing it.
So I started writing The Postmortal, which comes out today (you can buy it through here. I wrote it in the summer of 2009 and spent the next two years rewriting it and editing it until it was fit for your consumption. People so far really like it, (NOTE: Many of the reviews contain spoilers) but you'll get to be the final judge of whether or not I succeeded. All I can tell you is that I put everything I had into it. I left everything on the field. I'm really lucky to be able to crack stupid poop jokes with you folks here every week, and the truth is that this novel never would have been published without you. Eighteen editors passed on the book before it was rescued by a lone editor who also happened to be a Funbag reader. So it's with a whole lot of gratitude that I bring to you today's LIVEASS FUNBAG. I'll be here until 3PM answering as many Funbag questions as I can. Send them via email, hit me up on Twitter or leave them in the comment section (I can see them all). Refresh the page at your leisure. Let's get to it.
NOTE (3:27PM): Annnndddd that's all. Any questions I didn't get to will go right in the Funbag queue for next week. Come to tomorrow night DC reading if you're in town (7PM, Politics & Prose). See you there. You guys are the best.
Fred (3:25PM):
Why should I buy your shitty book when I can already get it at the library for free?
Because only old people and the jobless hangout at libraries. You wouldn't want to be associated with such human filth, would you?
Gregg (3:21PM):
I haven't washed my car in 2 years and think I can go another 3 before I cave. Am I the laziest person alive?
Hell no. I never washed my car when I was single. My attitude was always, "Hey, it rained! That works!" Wives don't go for that.
By the way, every time I've plunked down ten or fifteen bucks for car wash, it's rained five minutes later. BULLSHIT.
Danger Guerrero (3:19PM):
Most disgusting sound in the world? It's an old person eating a peach, right?
I can't think of anything worse right now, no.
KingC (3:16PM):
Is there anything more amazing about the human body than it's ability to separate poop from fart and send an unspoken message to the brain that the pressure in your bowels is one or the other. Seriously, think of all the times you cut one loose with the volume and tone of a tuba with no concern for a rogue turd getting loose.
It's true. You feel pressure in your rectum and you know instinctively whether it's a real shit or just gas to pass. And sometimes, if you're really good, you can be somewhere where you have to shit, but you can't do it for whatever reason, and then FART to relive the pressure on your bowels without any poop coming out. I swear this can be done, and it's a wonder of human engineering. You talk about Intelligent Design!
Jeff (3:12PM):
What is the most satisfying part of your body to scratch when it itches? For me, it's either the bottom of your foot, because it is so gratifying to take your shoe and sock off to get to it after you've spent 10 minutes looking like a weirdo in front of people grinding your foot into the bottom of the floor. Or it's your scratching your balls. One, because there is no dignified way to do it and two, it just is so god damn relieving.
Between the pinky toe and the... uh... toe next to the pinky toe. The ring toe. There's gold to be had in there, I tell you!
KF (3:09PM):
If you had to play a price is right game for your family's lives, which would you pick?
Golden Road. Just because I like to live dangerously. I'm putting for your life, Timmy! (CORRECTION: I meant "Hole in One Or Two")
Ben (3:04PM):
Which current NFL head coach would you most want to get high with? I'm talking geeked out, 11th grade gravity bong ripped. I would go with Lovie Smith but he'd eat the entirety of my fridge's contents. So I'm thinking Belichick.
REX RYAN REX RYAN REX RYAN REX RYAN. Rex Ryan. I think Belichick would be depressing. He'd start talking to you about death and how love is just a chemical imbalance and then your whole high would be ruined. Failing Rex, I'd go with some lifelong assistant like Dick LeBeau, who'd probably get ripped out of his mind and tell you every awesome story you ever wanted to hear. ONE TIME, CHARLES HALEY BROKE INTO OUR FACILITY AND JERKED OFF IN ART ROONEY'S EYE!
LB (3:01PM):
When you start a new job what is the proper amount of time to let go by before you start carelessly surfing the internet during down time? I say a week.
I think a week used to be the standard. Now I think it's about half a day. I remember when I first got an office job and I was like GOLLY GEE WHIZ THIS IS SUPER! I'M GONNA TRY REAL HARD! And then you spend a couple years in the working world and you realize how fucking stupid that is. You go from innocent to jaded in about three seconds. Now if someone hired me for an office job I'd be checking Tumblr within ten minutes of sitting down. It's probably why our economy is dying.
Kelly (2:55PM):
When is it acceptable to turn off the air conditioning? I'm not even talking about in your home - I live in the northeast and don't even have a/c at home, but here at work it's off already, before we're even in September! This is surely wrong. I always used the rule of thumb that you had to wait until the temperature outside was lower than the a/c - so 70 here at work (no way are they springing to make us actually comfortable at 68). I also feel like a douche for complaining but if you want me to sit in this faux leather chair all day you could at least spring for air.
It is NEVER acceptable to turn off the air con. Even if it's 60 degrees outside, you can still be in a place that's 75 degrees indoors. And once that happens, the pit sweat comes out and everything goes to shit. My wife turned off the air con TODAY, during this chat. I swear I'm ten minutes away from dying of heat stroke, and it's probably 73 in here. I can't stand it. I am a horrible person.
I took my kid to school for the first time yesterday and the school was jam packed with kids. they lined them up outside the classroom and waited for the bell to ring, and the hallway got unbearably hot. So hot that I started to get pangs of guilt. Like, this was a special day, but in the back of my mind, I just wanted the fucking class to open so I could go outside and stop breathing child fumes. Schools are hotter than death. Never teach in one.
NOTE: Fuck it, let's go till 3:30.
TOC (2:48PM):
Over the years, how much more or less would you have jerked off if every time you came, it was the amount of liquid of a regular piss? It would feel awesome, but the cleanup with be TERRIBLE.
You'd never jerk off lying down again. It would always be a toilet jerk. If you're me, that doesn't change your life much. For me, jerking off while lying down is an insane luxury. I may as well feed myself caviar while doing it, it's so hard to pull off in a crowded house.
And if you think it would suck for YOU, think about how a woman would feel being stuffed with a goddamn quart of fluid every time you skeeted. She'd never have sex again after feeling all that shit slide out the first time. It would be horrible. They'd have to invent some kind of vaginal sealant.
Jesse (2:45PM):
You and your wife pass away, and you have to decide who is going to raise your child the rest of the way: Colin Cowherd or Skip Bayless?
Bayless. I know enough to know that Cowherd is a pompous ass even when he's off the air, so I'll take my chances with Skippy. By the way, Skip's Wiki page says he's a professional troll, and no one has edited it. That's great. I think Wikipedia should forgo editors altogether now that no one wants to do it. Just let it become the haven of insults and lies it was born to be.
Held Over (2:42PM):
Wife wants to know: if guys get dad strength, what do women get? She says they should get strength for carrying the damn baby.
They do! They get mom strength. Mom strength is no bullshit. Moms can carry a baby, three shopping bags, and a purse all with one arm. And they can discipline two more children with another arm. It's like they become octopi. They can keep children and objects within a manageable radius of their person at all times. It's incredible. It's liek physical strength AND telekenesis. I saw a mom walking to the bus stop yesterday with four kids, and all four kids stayed within smacking distance of her because she had that Mom ESP. Those kids were trapped in her mental forcefield. It was a marvel to behold.
NOTE: Wife to me just now: "You've got a big booger hanging out. Are you gonna do something about it or just flick it? Cause flicking it would be (sarcastic) AWESOME."
NOTE 2: I flicked it. NO TIME FOR TISSUES!
Alex (2:35PM):
Have you ever tried synthetic marijuana? I won't BS you and suggest it's as good as the real stuff, but I almost prefer it now for the convenience of being able to go into just about any head shop or gas station and ask for 5 grams of the house special. It feels so rewarding, like It's a glimpse into the future where weed is legal everywhere - or it's just like a visit to California I suppose. Not too many places are testing for it, at least not yet.
Wait, what? This is a real thing you can buy at a gas station? Christ, I'm fucking old. I can live in neither the present nor the past!
Z (2:30PM):
So I recently noticed that in 4 years it is going to be the same amount of time between how far Marty went back in time in Back to the Future and how long it has been since that movie has been released. I don't see much changing in the next four years. You watch the first movie and he goes back in time and is a badass on a skateboard, mindfucks his dad to asking his mom out wearing a nuke suit, and shreds on guitar like no one ever heard before. All we really got is the internet and better graphics on our video games. If we went back in time I can't think of anything we could do on Marty's level that shows off our future ass kicking skills. Does this annoy you too?
It does, now that you mention it. In fact, kids back in 1985 were probably less sentient than people today, which means they'd be more active and probably fitter and happier. All I'd do if I went back to 1985 would be bitch about no WiFi access and ask where I could find a decent Peruvian chicken joint, only to be met with blank stares. It would be awful until I started gambling and amassing a goddamn fortune like Rob Corddry did in Hot Tub Time Machine.
Trip (2:25PM):
I was at the urinal at the gym when a little indian guy came up beside me wearing mesh shorts. He proceeds to the next urinal, but instead of pulling it over his shorts, he reaches down, pulls up the leg of the shorts, and pees out the bottom. This was just too weird. I would almost prefer the old days at amusement parks when the weirdos would drop trow all the way to the ankles for no apparent reason. That was less weird than this, no?
Um... Uh... Okay, I'll confess. I've pulled that move at the gym, especially if I'm wearing shorts that are really baggy. I have no clue why I do it. I think it's because I'm in a hurry and, in my mind, it's easier to not take my dick out over my waistband. I also think it might prevent drippage, but I know that's probably untrue.
By the way, I dribble in my gym shorts after peeing all the time, and there's no grace period with some gym shorts when you've dribbled in them. That pee stain shows up right away. So if you're ever at my gym and you see me walking around with a copy of "Entertainment Weekly" over my dick, it's because I kinda peed myself. DON'T JUDGE.
Mike (2:19PM):
You could: Live until 90 but you're not allowed to drink any alcohol, use any tobacco, eat meat of any kind, smoke pot (or any drugs for that matter) or listen to any musical act associated with David Grohl (Nirvana, Motorhead, Queens of the Stone Age, Probot, Them Crooked Vultures).

or

Die at age 50 and can do all of those things.
I'd like to say die at 50, because that would be the obvious and manly choice, but that's a lie. I don't want to die 16 years from now. That would be horrible. I'd just have to adjust. That's what life is about, really. Shit happens and you adjust. You have a kid and you adjust. People you love die and you adjust. Life is constantly tossing all this shit at you and you just have to deal with it best you can. So I could live without meat and weed and QOTSA, but I'd find a way to survive. You find new outlets. You discover new shit to get you off. And I can still jack off under your guidelines, so bring it on.
Noah (2:15PM)
Which sister pair would be the most fun in the bedroom: The Deschanels, the Mowrys, the Olsens, or feel free to suggest your own sister actress pair (kardashians dont count)?
The Middleton sisters are #1. I'd also add the Williams sisters to your list, but you might not have a penis left by the time they were finished with you.
Nat (2:13PM):
So first date tonight with guy I met online. Do I sleep with him if I like him? Does that seal the deal or ruin any chance I have to date him? What is the etiquette here.
Sleep with him! HAVE A HEART.
Daniel (2:08PM)
Assume your mother and a supermodel switched bodies (we're talking a Freaky Friday type of situation here). Would you bang the supermodel's body with your mom's "soul" inside, or your mom's body with the supermodel inside?
Holy shit, that's the worst question ever. That's even worse than the "two hookers who ages add up to 20" question from a few months ago. There's no right answer, man. There is NO right answer. That's like when your friend sidles up to you and asks you, "Would you rather blow your dad, or eat your mom's pussy?" THERE'S NO WAY OF GAUGING WHICH IS BETTER. At all. They both are awful. The supermodel one sucks because you'd be banging your mom and LIKING it, and the mom one sucks because it looks like your MOM. Goddamn you. Goddamn you to Hell.
Sean (2:02PM):
James Harrison earned himself $125,000 in fines from the NFL last year. If I ran any sort of company, I would be first in line to offer him a new kind of endorsement deal: every time he gets fined, we pay him the exact amount of the fine times two (or three or whatever). This way, not only is the fine negated, he EARNS money for laying vicious hits on "defenseless" WRs. It would be the greatest value in advertising history: for the only $250K (if you double the fine amount), you would get unparalleled exposure. Plus, it would be the greatest Fuck You to Goodell ever conceived? Could it work?
I'm sure The Ginger Hammer would find a way to put an end to it, probably by having a court find the practice "illegal". Pfft. Whatever. PUSSIES. Though I do have to imagine that places like Lloyd's of London do offer insurance for fines and suspensions. I'd buy it.
Telemundo (2:01PM):
Do you think we are lucky to have missed the YouTube and cell phone video era? On one hand I would have a lot more pictures and fun memories of partying back in college. But we also did a ton of stupid shit that could have been posted all over the damn world for our offspring to eventually come across. I'm torn on this one but I have to say lucky.
I guess I have to agree because if I had had web porn back then I would have become a full fledged porn addict, like our Gentle Path correspeondent, with the all-night jerk sessions and the mangled cock and the total lack of self-worth. I have a son and I'm terrified about the idea, frankly. Ever see World Greatest Dad, that movie Bob Goldthwait made about Robin Williams and his porn addict kid who dies choking himself and jacking himself off? I didn't see it either, but the plot description is harrowing enough. Our kids are gonna have virtually unlimited access to the most grotesque shit imaginable and, at a certain point, there's not much you can do about it except pray that you parented them well enough to not WANT that for themselves. It's fucking scary, man. It really is. OOOH SOMEONE SENT NAKED LUCY LINDER PICS!