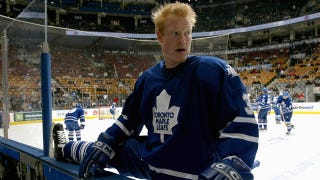 Longtime NHL defenseman Wade Belak, who spent much of his career with the Maple Leafs, was found dead at 35 today in his Toronto hotel, according to a report from QMI Agency in Canada.
Belak, who spent the past three years with the Nashville Predators, unofficially retired in March to work for Nashville in organizational roles. He did some broadcasting and front-office stuff.
What's weird is that Belak, unlike this summer's other deceased NHL goons, Derek Boogaard and Rick Rypien, was a fairly public presence. And Boogaard suffered from a pill addiction, while Rypien was chronically depressed. Belak didn't show any signs of similar afflictions.