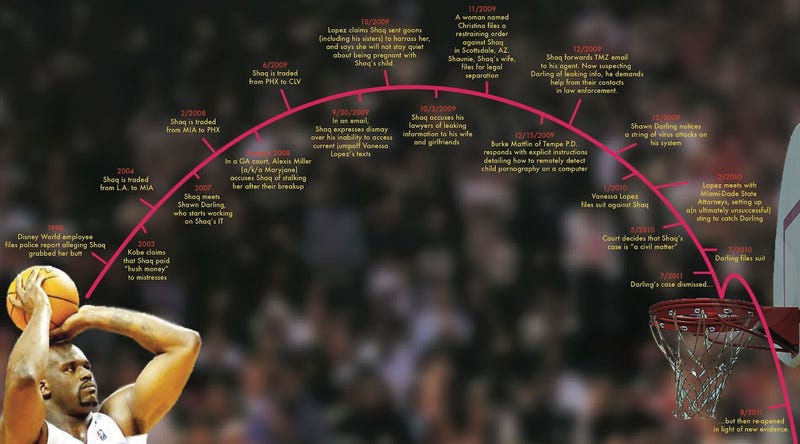 A reader, who only wants credit to go to "Colin," has sent in this exhaustive guide to the Hack-A-Shaq saga that we've been dutifully (and somewhat regrettably) following for the past few weeks. We found this version—in familiar brick free-throw form (with artistic liberties taken as regards to his handedness)—more comprehensive than another commenter's take on the situation.
Click on the image, or right here, to expand, and follow along with the glossary we've provided below—because this is important, goddammit:
Shawn Darling: Shaq's former "rogue" IT guy, who has promised to "ruin" the retired NBA center with his lawsuit.
Alexis Miller, a.k.a. Maryjane: A 23-year-old Atlanta woman who, in 2008, "claimed that since [she and Shaq] had broken up, [he] enjoyed calling her and breathing Darth Vader-style into the phone. When she demanded that he identify himself, he would instead mutter in his recognizable basso: 'Bitch. Ho.'"
Vanessa Lopez: Purportedly Shaq's longtime mistress. She claimed that when she told him she was pregnant with his child, Shaq "dispatched his six-foot-six and six-foot-eight sisters, Ayesha and Lateefah, to confront Lopez and make 'verbal and physical threats' against her." In January 2010, she field a suit against Shaq. Lopez has "credibility issues" due to some past history with NBA players like Kenyon Martin, J.J. Redick, and Delonte West.
"Christina" from Scottsdale: Reportedly Shaq's mistress while he played in Phoenix. TMZ offered her $3,500 for her story, which sparked Shaq's concern.