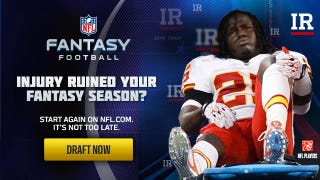 There's an ad on the front page of NFL.com now. It shows Jamaal Charles being carted off with a torn ACL, near tears. His health, shot. His livelihood, threatened (only about 35 percent of his contract is guaranteed money). The Chiefs' season, shot.
To that, the NFL says: sorry if you had him on your fake football team.
Yes, it's an ad for NFL.com's fantasy football, first brought to our attention by Stephanie Stradley. "Does NFL want ad people promoting players as meat?" she asks. To that, the NFL likely says: we've been doing it for 40 years, why not now? Players are meat, pawns on a chessboard, participants in human cockfighting. But in our rush to place laurels upon the victors weekly, we process their accomplishments as quantities. What matters more in the big picture? The thousand yards Charles won't rush for on a KC team that was going nowhere? Or the hundreds of thousands of points he won't rack up in fantasy leagues across the country?