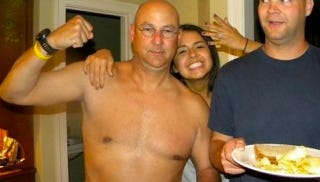 Your p.m. roundup for Sept. 29, the day we learned nothing good will happen when you've got a scarecrow riding shotgun in a stolen golf cart. Got any stories or photos for us? Tip your editors.
What we're watching (all times EDT, unless noted):Yankees Vs. Tigers on TBS at 8 p.m.-Utah State At BYU on ESPN at 8 p.m. -Aussie Rules Football Playoffs, grand final, Collingwood vs. Geelong Cats on ESPN2 at midnight.
Read Me
Dave Eggers beautifully insufferable interview with DFW forThe Believer in 2003 about finite math and teaching poor kids and writing and LIFE DFW: "Packed into this Q is the idea that what I'm really talking about w/r/t people communicating with each other across specialties is people becoming better teachers, which I'm not sure whether I was saying that or not. Teaching is different, I think, since the students are there voluntarily, and are by definition young and labile and pre-specialized. Anyway, I know that's not what you're asking. I have a lottery-prize-type gig at Pomona: The formal duties are light, the students all have way better SAT scores than I did, and I get to do more or less what I want. I'm doing Intro Fiction right now, which is fun because it's a chance to take kids who are very experienced in literary criticism and paper-writing and to show them there's a totally-in some ways diametrically-different way to read and write. Which would all take a long time to talk about, but for the most part it's big fun, and now that I don't stop and spit brownly into a coffee can every two minutes my credibility with the kids has gone way up; and as long as I don't do something really egregious I think I get to stay as long as I want."[Grantland, Sr.]
This Date In Deadspin History
Sept. 30, 2009: Is Deadspin Dead?
Things You Might Have Missed Today
Some quick links to a few items we posted earlier:
• Terry Francona Out As Manager Of Red Sox, Who Promised "No Scapegoats," To Be Replaced By (INSERT HIGH-PROFILE MANAGER HERE)
• "We Were Packed In Like Sardines:" Two Former Customers Review Detroit's Booty Bus
• Mike Ditka Is Angry About The Walter Payton Book He Hasn't Read
• The "Play Tebow!!" Billboard Is Live In Denver
• Hey, Craig Kimbrel! Don't Worry, The Internet Has Found Your Wallet