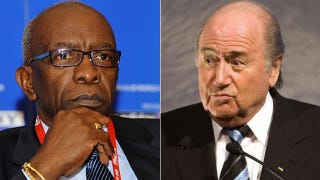 FIFA, if you are so inclined to take notice, is potentially in the midst of a total organizational breakdown, because we're now hearing what we already knew all along: FIFA is very corrupt. This is a special breakdown, though, because it is one in which the accused person in power attempts to deflect any wrongdoing by turning it back on the real person in power, and that just might make the whole thing crumble and collapse before too long.
Or we might just find out that FIFA president Sepp Blatter is an indestructible robot, and international soccer will remain like this forever. It's all still up in the air.
Today, Jack Warner, former FIFA VP and CONCACAF president, published a letter in the Trinidad Guardian that promised a "tsunami" of corruption charges against Blatter and FIFA. Warner's letter comes just a week after the Telegraph posted a video alleging to show him telling members of the Caribbean Football Union that they must "decide whether to accept the 'gifts' of $40,000 (£25,000) each, and urging them to vote for Bin Hammam rather than Sepp Blatter in the [FIFA] presidential elections."
That plan, of course, fell very flat. Mohammed bin Hammam is now banned from FIFA for life.