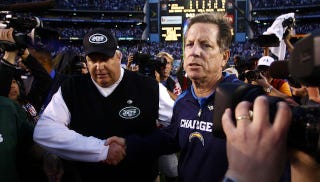 It has been a watershed week for coach fights in the NFL. First, of course, there was the Great Handshake Showdown Of Oh-Eleven at Ford Field on Sunday evening, when two grown men disagreed about the proper way to deliver post-game handshakes and resorted to standing around grimacing at each other amongst their players. And now, we can all gather 'round and gape at Ryan vs. Turner.
During a conference call with San Diego reporters yesterday, Rex Ryan dropped in his own shot at Norv Turner, who became the head coach of the Chargers in 2007:
"Well, I think I would have had a couple rings," Ryan told San Diego reporters today when asked about how things would have unfolded if he were hired by GM A.J. Smith. "I'm telling you, those teams were loaded. There's no question about it. But things happen for a reason. Obviously, Norv Turner has done a great job there. And A.J. (Smith) and everybody. That's a great franchise. He was probably the best guy for the job at that time."
Ryan, whose Jets play in host San Diego on Sunday, has been guaranteeing Super Bowl victories ever since he took the helm in New York in 2009. The retroactive guarantee is a special turn from him, especially since it suggests an implicit diss at his own GM.