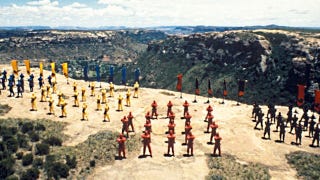 OK, we understand there is some anger and confusion about the changes in the comments section, and we want to take the time to explain it as best we can.
There is going to be a de-emphasis on shorter comments. This is a Gawker-wide matter. There isn't a whole lot we can do about that at this point. A character limit disables the reply function to your comment if it's not met. Please note: THIS DOES NOT MEAN WE ARE TAKING AWAY YOUR +1s. You can still reply to comments with a +1. You just can't reply to a +1 (or anything under 36 characters). Got that?
This is consistent with another change you may have seen. Going forward, we want to encourage a wider variety of comments. The biggest change will be allowing more thoughtful responses in addition to the usual dick-jokery. We're adding stuff, in other words.
We believe the level of commenting on this site is the best and funniest in all the ether. Second to none. We think it's fair to assume, then, that our discourse here can handle an occasional heavy thought. To that end, we will encourage (or at least not discourage) an exchange of ideas within the comments section. Now, that could get messy, but we trust you guys not to let it devolve into a maelstrom of ad hominem attacks and petty name calling. This site remains decidedly not Yahoo and YouTube. Act like it. Continue to have pride in authoring original, funny, creative and thoughtful comments, and we will continue to have pride in moderating them.