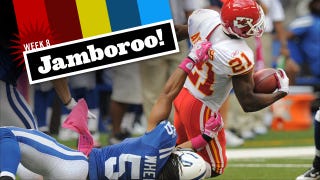 Drew Magary's Thursday Afternoon NFL Dick Joke Jamboroo runs every Thursday during the NFL season. Buy Drew's new book, The Postmortal, through here. Find more of his stuff at his Twitter feed.
No time for tiddlywinks, we've got a lot of shit to get to this week.
The Games
All games in the Jamboroo are evaluated for sheer watchability on a scale of 1 to 5 Throwgasms.
Five Throwgasms
Patriots at Steelers: I was at the gym the other day and there's a big sign in the locker room that says NO CELL PHONE USE. And I overheard two guys talking to each other about why that rule was in place, and one of them said that they put in the rule when someone complained about another dude taking pictures of other guys in the locker room with his phone. This sent me into a complete panic. I totally hadn't thought of that before. WHAT IF THE PERV TOOK A PHOTO OF ME?! Did I look good naked? I hope I gave him a decent gay fap session. Sometimes my ass doesn't photograph well. I'm really worried the lighting didn't do me justice.
By the way, if you catch someone in your gym locker room taking a photo of your dick, it's not gay bashing if you beat the shit out of him, right? I say that's fair revenge. You can't turn that around and say it's homophobic to whip that guy's ass. That would be bullshit.
Four Throwgasms
Cowboys at Eagles: Back in 2005, the NFL banned horse-collar tackles because then-Cowboys safety Roy Williams made it his finishing move. Turned out Williams was shitty at pretty much every facet of playing football that did NOT involve grabbing the back of someone's shoulder pads, but I digress. People got injured, the league freaked out, and horse-collar tackling was no more.
The problem is that refs have decided that "horse-collar tackle" now means "tackling someone from behind." All you have to do is grab the back of a dude's jersey and suddenly you're getting dinged for 15 yards, which is idiotic. The point of the horse-collar rule is to prevent defenders from reaching into the back of the shoulder pads and violently bringing the ballcarrier down. That makes perfect sense. But if a ballcarrier has you beat and you need to reach out for a piece of jersey to stop him, that shouldn't be illegal. That's not a horse-collar tackle. That's an OH FUCK I BLEW MY COVERAGE tackle, and it's embarrassing enough when a defender is forced to resort to it.
The game happens at such a dizzying speed that, when rushing to tackle someone, you barely have time to process any other thought besides TACKLE THIS MAN. That's why defenders get pissy over rules about leading with your helmet or the horse-collar tackle. Both rules presume you have a choice as to how you tackle someone, when your only choice is to bring them down any way you possibly can. Refs need to stop fucking this up. Also, someone should find Roy Williams and punch him in the kidneys for causing such an annoying rule to be implemented.
Three Throwgasms
Chargers at Chiefs: What the fuck is going on with Marmalard? Why is he so shitty all of a sudden? I asked a friend of mine who's a lifelong Chargers fan and he thinks Rivers is hurt but isn't telling anyone. Well, that's just GREAT. Thanks a shitload, LASERCUNT. I hold onto you in my keeper league and this is the thanks I get for my loyalty? Your stupid secret injury isn't preventing you from KNOWING WHAT GODDAMN DOWN IT IS.
Redskins at Bills (in Toronto): It was my wife's birthday the other week, and I got her a card that had a little peekaboo window on the front, and when you opened the card there was a picture of a monkey's ass. She was not amused. Come on, lady! It's a monkey's ass! SHOEBOX GREETINGS WAS ON ITS GAME WHEN IT MADE THAT ONE.
Two Throwgasms
Vikings at Panthers: I desperately wish Cam Newton played in a worse division. If he played in the AFC South, we'd get to see him in the playoffs, and holy shit would that be fun.
By the way, Christian Ponder placed his mouthguard over his ear whenever he was standing on the sidelines last week. That can't be sanitary. No one wants an ear full of dirty mouthjuice.
Lions at Broncos: Every time Tim Tebow throws the ball, it looks like a fake punt.
One Throwgasm
Saints at Rams: I was on the radio the other day and the host, Steve Czaban, thought the Rams would happily ditch Sam Bradford if they got the No. 1 overall pick. And I hadn't really considered that. I figured it was a given that the Rams would keep Bradford and then use the No. 1 pick to trade for a shitload of picks to give Bradford the support system he needed. I mean, you couldn't just ditch a guy who won Rookie of the Year, a guy you spent $50 million on, right? Could you? I know Bradford has thrown a grand total of three touchdown passes and has regressed this year, but it's hard to say that's his fault. His wideouts are fucking terrible. His offensive line is fucking terrible. And Josh McDaniels is fucking EXTRA terrible. Josh McDaniels is a penis with ears. Josh McDaniels would fuck up baking a box of Duncan Hines brownies because he'd spit on the directions and hire his brother to do the mixing.
So Bradford is hardly to blame for the Rams' current predicament. And yet, it would be quite amusing if the Rams said to Bradford: "You know? FUCK IT. Let's trade YOU instead of the pick." And then they drafted Luck and gave Bradford away to the Seahawks or something like that. That would be even more shocking than the Colts drafting Luck and setting the wheels in motion to get rid of Peyton Manning. I'm not sure which scenario I prefer. Whichever one makes Jaworski's head explode.
By the way, I wonder if Luck insists on being called "Andrew," and not "Drew" or "Andy." Andy Luck sounds WAYYYY too much like Andy Dick for any NFL scout's comfort.
Cardinals at Ravens: One thing Fox is still not doing with its graphics is instantly updating player stats after they've been involved in a play. So, for example, when Kevin Kolb throws his ninth interception of the day, there should be a quick graphic updating his stat line: KOLB 3/47 6 YDS 9 INT. I watch any game on CBS and I'm riveted by those graphics. I often miss the entire next play. It's awesome.
Colts at Titans: I bet Matt Forte is sending Chris Johnson flaming bags of dogshit via FedEx as we speak. If I were Forte, I'd be fucking LIVID at Cop Speed. Because who's gonna sign a running back to a huge contract now? Cop Speed got $30 million in guarantees. DeAngelo Williams got $21 million in guarantees. Both of those guys have exactly one touchdown this season (DeAngelo got all his TDs stolen by Cam Newton, but still). Unless the running back in question is Adrian Peterson, you're fucking yourself over by handing out that much money to a running back. In fact, the rookie wage scale makes running back the least desirable position for anyone hoping to make a living in pro football. The average running back is at his most productive for the first three or four years of his career. After that, he's washed up and shitty. So if you're a running back coming out of college, you're going to spend your best years playing for the smallest possible contract. You're screwed. You're much better off playing linebacker, or some other position that has a longer shelf life. The only reason to play running back is because you can't resist the glory of toting the rock, which is kind of nice. Being the dude who gets the ball is irresistible.
Jaguars at Texans: I was watching Project Runway last week (because I'm gay, you see) and I remember thinking to myself, "Say, that Anya is not unattractive." And lo and behold! Turns out she has a sex tape out on the Internet. And to me, that's the miracle of modern society. You see someone on TV who looks attractive, and there's a very good chance you can access naked photos or even hardcore pornographic videos of them online instantly. WE LIVE IN SPECIAL TIMES. Not only was Anya in a hardcore sex video, but the video featured one guy sleeping with TWO Miss Universe contestants: Miss Trinidad (Anya) and Miss Japan. Now that's a coup, right there. How many men can say they indulged in a beauty pageant threesome? And the guy was ugly as shit! He looked like Joakim Noah's love child, he was so ugly. I wish there were a congressional investigation into how he pulled it off. It would be like reading a great heist novel. All I know is that I'm very happy it's Anya who has a sex tape and not Gretchen Jones.
By the way, this whole thing got me wondering: If we had the Internet back in the '70s and '80s, which celebs would we have gotten leaked sex tapes out of? If there had been a Catherine Bach sex tape back in 1980, the continents would have been flooded with manbutter.
Dolphins at Giants: Before the lockout ended, I wondered aloud about the idea of the 2012 NFL Draft becoming two drafts in one. Now with the NBA possibly on the verge of losing the whole season, I'm curious as to how that will affect the 2012 draft, especially if the lockout is still going on (and given the people involved, it seems like a real possibility). The order of the 2005 NHL Draft, conducted after the league missed an entire season, was determined by a weighted lottery that took into account playoff appearances and past draft position, and it was a snake draft, meaning it reversed order every other round (like the average fantasy draft).