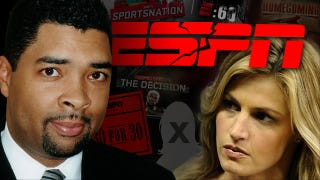 Last month, ESPN announced it was eliminating its bi-coastal, 25-person Content Development department, which was responsible for the network's 30 for 30 series, among other things. The head of the group, Keith Clinkscales, ESPN's senior vice president for content, development, and enterprise, left the company to become an independent producer. "This is a more efficient and better model," ESPN's executive vice president for content, John Skipper, told Sports Business Journal.
But shortly before ESPN's announcement, we received an email from the spouse of an upper-level Content Development executive who is leaving ESPN. "This place is a shit show," our tipster wrote. The group, he wrote, had been dissolved to "get rid of" Clinkscales—whose transgressions, we'd learn in subsequent conversations with the tipster and his wife, allegedly included a physical altercation with a co-worker and an incident of masturbation in front of sideline reporter and peeping victim Erin Andrews. Top-level ESPN personnel knew of these incidents, these sources said, but nevertheless kept them quiet.
And this is where things got weird. Clinkscales is now suing the woman he believes to be our source. Just to be clear: A former ESPN senior vice president is suing another former ESPN executive on the grounds that she defamed him in a story that we hadn't written yet. That we're now publishing. What follows is the story of how the shit show spread to us.
* * *
Clinkscales launched the department in 2007. He had a well-established pedigree in editorial management from his time at Vibe magazine (though his tenure there ended with some mixed reviews), and he counted among his friends some of the most prominent entertainers and businessmen in the black community—Spike Lee, Quincy Jones, and others. Clinkscales, the highest-ranking African-American executive at ESPN, was a transformative and progressive hire for a generally hidebound company, tasked with overseeing some of ESPN's top programming. He had a keen eye for scouting new African-American talent, notably Sage Steele and Jemele Hill, and maybe most importantly he had a good relationship with John Skipper, with whom he'd become friendly during their magazine days (Skipper had worked at Rolling Stone) and who had lobbied ESPN to hire Clinkscales.
Under Clinkscales's leadership, the group developed 30 for 30, Rise Up, SportsNation, and Rick Reilly's Homecoming. Clinkscales was also one of the key dealmakers involved in LeBron James's Decision, which, despite all the public ridicule, was reckoned a triumph by ESPN suits thanks to its astronomical ratings. Clinkscales was also instrumental in creating ESPN The Magazine's notorious Body issue.
But his successes apparently weren't enough. By this past summer, Clinkscales's time in Bristol was coming to an end. His résumé appeared online as early as June, we're told. Something was in the works.
His content development group was feeling some strain as well. Back in spring, a portion of the department was moved out to Los Angeles to develop sitcoms in partnership with ABC. Two of those projects—a sitcom about Boston fans and a family-friendly comedy based on the life of ESPN anchor Sage Steele—were picked up by ABC and fast-tracked into development. With the group spread from Los Angeles to Bristol to New York, some of the members became fiercely territorial about their individual projects. Growth and relocation hassles had bred some internal resentment toward Keith from those who still officially worked under him.