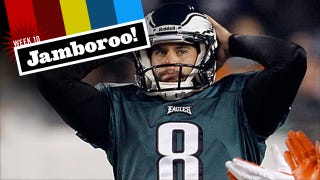 Drew Magary's Thursday Afternoon NFL Dick Joke Jamboroo runs every Thursday during the NFL season. Buy Drew's new book, The Postmortal, through here. Find more of his stuff at his Twitter feed.
The Eagles ran a fake punt on Monday Night. And oh, it was set up beautifully. Both gunners were left completely uncovered. There wasn't a soul within five yards of either receiver. It was like the Bears were handing the Eagles a free first down. It was a perfectly good call to make, even if these things have a way of blowing up in Andy Reid's face.
That, of course, is exactly what happened next. The ball was snapped to punter Chas Henry (so quickly that the Monday Night camera crew completely missed it), and then Henry let loose the single shittiest pass ever. It landed ten yards in front of the receiver. I swear the ghost of Fat Donovan McNabb possessed Henry's arm and made him drive that ball right into the ground. After that, the Bears took over, kicked a field goal, and the Eagles were finished.
Now, I love fake punts and fake field goals. They're so exciting, I wish every single punt and field goal were a fake. Every time there's a fake punt, I audibly gasp and say HOLY SHIT! And if it's successful, I rewind it and watch it a million times, giving it my own color commentary. "Look at that. Completely fooled the linebackers. WHAT A PLAY, EVERYONE."
But as much as I like fake punts and field goals, I suspect that, statistically speaking, they serve no purpose. There's only one advantage to running a fake punt or field goal on fourth down, and that's the element of surprise. And that element of surprise is never a given. There's always a danger of the defense recognizing it, which negates any chance of the play succeeding. And even if you do manage to surprise the opponent, you're still running a fourth down play with personnel ill-suited to running an effective offensive play.
The Eagles had the element of surprise on Monday Night and their fake punt still failed, because Chas Henry throws like a fucking girl. Wouldn't they have been better off putting the offense out there for that 4th and 6 and running a real play? With the starting offense out there, you have options at your disposal (particularly with a running QB like Mike Vick). With Chas Henry at QB, you're a bit more compromised. The element of surprise may never be worth it.
Obviously, not all fake punt and field goal situations are alike. On fake field goals, you have the holder (often a backup QB moonlighting) throwing the ball, which is better than throwing Chas Henry as your surprise QB. Or you can forgo throwing the ball on a fake punt and snap directly to the upback, as the Patriots did in the playoffs against the Jets last season. That fake punt also failed miserably, despite the fact that the defense didn't see it coming. Again, a team favored the element of surprise over using their starting offense to convert a fourth down. The result was a botched snap and a Patriots loss. A wonderful, wonderful Patriots loss.
The current leaguewide 4th down conversion average is 45% (98/216). The percentage is higher at 4th and 1, then drops as you progress downward to 4th and long. Despite an exhaustive Google search (seriously, I spent two whole minutes looking around, which counts as a Herculean effort in the age of digital research), I found no historic success rate for fake field goals and punts. I suspect that the percentage is lower than 45%, only because so many things have to go right for a fake to work. The defense needs to be caught off guard. The person executing the fake needs to do a good job at something they don't normally do. And Andy Reid can't be your head coach when it happens. I asked Aaron Schatz of Football Outsiders if there was any validity to the idea that fakes are NEVER a better option than using your best offensive personnel:
I think "do fake FG and fake punts work" is a valid question, sure. But it does get into complex questions of the expected value of a punt, or a FG, compared to going for it normally or trying a fake, and of course you can argue that the playcalls on fakes are so different from each other that you can't judge them all together.
Fair point. We may never know. Then again, the fact that this argument may only exist in abstracts means I totally don't need evidence to back up my spurious claim. ALWAYS PUT THE OFFENSE OUT THERE IF YOU'RE GOING FOR IT OR ELSE YOU WILL FIND YOURSELF IN A WORLD OF SHIT.
The Games
All games in the Jamboroo are evaluated for sheer watchability on a scale of 1 to 5 Throwgasms.
Five Throwgasms
Lions at Bears: Jaws and Gruden were fucking insufferable last Monday night, even more so than usual. Every time someone made a play, you got Jaws effusively praising everyone involved for five goddamn minutes, like he was a motivational speaker trying to boost their confidence. LOOK AT MATT FORTE. THE SPEED. THE QUICKNESS. THE LATERAL AGILITY. HE'S GOT IT ALL! And then Gruden would come chiming in with his fucking John Wayne accent. WELL HOWDY PARDNERS. It's unbearable. And do you know what the worst part is? They LAUGH. They compliment, then they laugh, then they compliment some more, and then they laugh some more, as if all they can do in the wake of seeing competent football is just throw up their hands and giggle incredulously. It's pro football. Players are going to do really cool shit out on the field. I don't need you to tell me that Matt Forte is good. That's plain as day. I hate these people. I wish one of them would insult gay people on the air and be forced to resign the next day.
One thing about the Bears: The way they call plays is that Mike Martz sends the play down to the QB coach, who then sends it to Cutler. This is why they are forced to burn so many timeouts early in games, and they've done NOTHING to fix the problem. Are they fucking retarded? Why can't Martz just give the play to Cutler directly? Does the QB coach needs to add napkins and ketchup packets to the order?
UPDATE: Reader Erik sets me straight:" Only a coach on the sideline can communicate with the quarterback's headset radio. Last year, Martz was down on the sideline and called plays directly. This year, he decided that he was more comfortable watching up in the booth. This has created the extended game of telephone which has resulted in more delays of game."
Steelers at Bengals: Someone suggested to radio host Steve Czaban that Andy Dalton should put black streaks in his hair so that it resembles the Bengals helmet. I want this to happen so badly, I may have to accost Dalton in an alleyway with a can of spray paint just to make it happen.
Patriots at Jets: I took my kid to Barnes & Noble the other day because I had no other good ideas. Every B&N store has a little Thomas The Tank Engine set in the children's books department, and the scene around the train set is never anything short of full-on ARMAGEDDON. There are always nine kids crowded around the set, each one trying to hoard as many train pieces as humanly possible. And there's always one kid who's WAY too old to be playing with trains monopolizing the set and pushing the little kids out of the way and you want to be like HEY! YOU LITTLE CUNT! GO PLAY VIDEOGAMES LIKE A NORMAL EIGHT-YEAR-OLD. And then your kid will try and do one loop around the track with his little Thomas piece and his progress will be impeded by eight other kids, and it never occurs to your kid to GO THE FUCK AROUND other kids. No, no, they have to PLOW right through the crowd, and then you have to explain to your kid that other children are tangible and you must avoid them. Then some other little shit kid pushes your kid and you have to restrain yourself from kicking that kid's ass AND kicking the parent's ass as well. What I'm saying is: avoid Barnes & Noble. It'll be gone soon anyway.
Giants at Niners: God, I wish the Giants played New England every week. They should be placed in a two-team division or something. I'd also like to thank the Giants defensive line for bringing kickass face masks back to the NFL. Chris Canty's face mask looks like he ripped off a jail cell door and welded it to his helmet. I love it. The more squares, the better.
Four Throwgasms
Saints at Falcons: I let my hair grow too long this month (untamed Drew!) and I wore a baseball hat the other day. And when your hair is too long and you wear a baseball cap, you know what comes next: HAT SCALP. Oh God, why must it hurt so badly? I just wanted to look cool in front of my bros!
Three Throwgasms
Texans at Bucs: I know Dickey made fun of the Times for reporting on NFL football delaying "The Good Wife," but it's a legit gripe for any TV viewer: Why the fuck does CBS cling to a Sunday Night primetime schedule that starts at 7PM? It makes no goddamn sense. "60 Minutes" NEVER starts on time. That's why every Sunday, you get Jim Nantz telling people at 7PM, "Hey, if you're looking for 60 Minutes, it'll be on in 40 minutes or so. GO PATS!" Why don't they just move "60 Minutes" back to 7:30 or 8 and move "The Amazing Race" to some other night? I can't imagine anyone who watches "The Amazing Race" will be heartbroken about it. OH NO! MY WEEKLY AAMAZING RACE PARTY HAS BEEN RUINED!!!