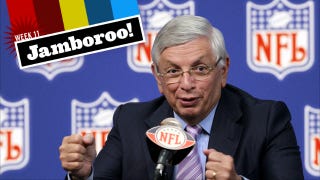 Drew Magary's Thursday Afternoon NFL Dick Joke Jamboroo runs every Thursday during the NFL season. Buy Drew's new book, The Postmortal, through here. Find more of his stuff at his Twitter feed.
People, Thanksgiving is SEVEN DAYS away. Holy shit. Unlike Halloween and Christmas, there's very little hype leading up to Thanksgiving. The fall progresses and then suddenly it's just THERE. BOOM. Turkey and football and passed gas and FUCK YEAH.
With that in mind, I just wanted to say a little early thank you for all the hot lubricated NFL action we've gotten this season ("The NFL: 100% Free of Child Rape!"). Remember: This season could have easily not happened, or it could have been shortened significantly. I look at the current ongoing NBA lockout and all I can think to myself is, "Christ, that could have happened to a GOOD sport!" And that would have been tragic. If the NFLPA's leadership had been as shitty as the NBPA's leadership—if they had dragged their feet on litigation and failed to do anything to give themselves leverage to negotiate—we could have been stuck here in mid-November with no football to speak of. God, that would have been miserable. I can't even picture it in my mind, it's such a repulsive prospect. I would have spent the whole fall shitting in my hand.
You live long enough and you quickly learn that work stoppages are the cost of doing business as a sports fan. Every sport has them, and every sport periodically will as history drags on. I wish I could take the long-term view and treat work stoppages casually and busy myself with other things, but I'm unable to. The fact that work stoppages are something of a normal occurrence doesn't make them any less painful to endure. So I'm enjoying this season just a bit more than others, because I know there's a parallel universe where everything went to shit and I was forced to eat my own children due to symptoms of NFL withdrawal. On we go.
The Games
All games in the Jamboroo are evaluated for sheer watchability on a scale of 1 to 5 Throwgasms.
Five Throwgasms
Bengals at Ravens: I was at a book fair the other night, one of these events where a bunch of authors (that's me!) sit at tables while people walk around and check out their respective books. The author sitting next to me was a former U.S. senator. I had never been that close to a senator before. It was thrilling. I spent three hours waiting for a deranged militiaman to try and attack the senator, only I step in at the last second and bravely disarm the man. Then I turn to the senator and say, "Senator, ARE YOU ALL RIGHT?!" And then the senator thanks me and gives me a cushy $350,000 gig at a lobbying firm as thanks for saving his life. It didn't happen, but I was READY for it. I totally had his back.
All night long, people stopped by to greet the senator. And every motherfucker who walked up talked to him for, like 15 minutes. I'd fucking kill myself if I were a senator. Every dipshit mouthbreather accosts you and gives you their little manifesto about how to fix What's Wrong With America. I wouldn't be able to tolerate it for more than three seconds. People would hand me babies to kiss and I'd just spit on them.
After a while, the senator and I struck up a conversation. Somehow, we got on the topic of overpopulation, and the senator told me this (paraphrasing):
SENATOR: You know, they say that one of the reasons London has thrived throughout history is because it's been bombed so many times. The city gets bombed, and then they build it up again, stronger and more prosperous than it was before.
ME: So, burning the city down actually CREATED jobs.
SENATOR: In a manner of speaking.
ME: So we could save the American economy if we legalized ARSON!
SENATOR: Well, now...
Here's what I think we should do. We should pick an American city (let's say Boston, because it sucks), then we should have it evacuated, and then we should BLOW IT TO SHIT. Then everyone comes back and rebuilds the city, only this time with high-speed catwalks and lots of lasers all over the place. We'll all be rich again. I swear it could work.
Four Throwgasms
Jets at Broncos: In high school, I had a Nebraska Cornhuskers warmup jacket and a Nebraska hat, even though I'm not from Nebraska and have no affiliation with the University. I was just a front-running asshole who enjoyed watching a well-run option offense. To this day, I still like it when some jayvee option team like Navy pulls an upset against some asshole BCS conference school. So I really like the option, and yet I STILL hope the Broncos lose every game by 50 points from here on out. That's how much you've overcovered Tim Tebow, ESPN. You've made me hate the option: THE SCRAPPIEST OFFENSE OF ALL.
Eagles at Giants:
Three Throwgasms
Chargers at Bears: I went down to my basement the other night and sitting there on the floor was a fucking cave cricket—SCOURGE OF THE MID-ATLANTIC. Anyway, my kids were with me, and this was a perfect chance for me to take out a high-value target in front of them, so that they knew I was bad as fuck. So I tell the kids to step back ("It may jump!"), and then I take my shoe off and prepare for battle. Then I went for the smack and the fucker jumped behind a file cabinet, out of reach. So I grabbed a broom handle and my kid is behind me going KILL IT, DADDY! KILL IT! And I jostle the fucker until he leaps back out and INTO my kid, who lets out a yelp. Then I try and smack it down again and it leaps at ME. So then I scream like a little girl and then the thing goes and hides under the couch and out of sight. I totally fucking failed. Not only did I fail to take out the "package," but I also left no doubt as to how I react when a cave cricket jumps at me and threatens to chew my face off with its big cricket mandibles.
So we all trudge upstairs for bedtime with the cricket still alive and I turn off the lights in the basement specifically so that the six-legged cunt will be lulled into a false sense of security and come out of hiding. Well, sure as shit, I walk back down an hour later there he is, right in the middle of the room, staking his claim to MY FUCKING BASEMENT. I take off my shoe and I say to him (I really did say this), "So. We meet again." And then... we resumed our DANCE OF DEATH. I went to drop the shoe right on him and he jumped out of the way (seriously, these things have the Hulk's jumping ability) and under the recliner. Then, I switched weapons, opting for a discarded paper towel tube over the shoe. I swiped under the chair and he dodged it. I swiped again and he dodged it. RUFFIAN. I swiped a third time and he jumped back to the corner. I went to the other corner, like a boxer between rounds, and switched BACK to the sneaker for the next engagement. I took the other shoe off to give me extra sneaking prowess. Then I walked up to him and tried the drop once more and he evaded me a final time, leaping over near the kiddie trampoline. I rose the sneaker up and brought down the thunder and this time, I connected. After five good minutes of battling, the fucking cuntface was a mangled heap on the floor.
And I swear to you, I did a white-boy fist-pump afterwards. You would have thought the Vikings just won the NFC title. I said, "TAKE THAT, CRICKET!" which is such a lame one-liner to deliver. I was all sweaty and shit. I almost thanked Jesus for helping me out on the battlefield. It was a real moment. I only wish the kids had seen it.
Titans at Falcons: I have Matt Hasselbeck and Tony Romo in one fantasy league, which means I have a mild fantasy QB controversy. It's not anywhere near as bad as a full-blown fantasy QB controversy, but it's still enough to make me second-guess myself if the matchups are uneven. Fantasy QB controversies are unpleasant because, of course, you will ALWAYS pick the wrong quarterback. Or worse, you will stick with the one you drafted higher as a kind of tiebreaker and then the higher drafted one will FUCK YOU WITH A MOP. The only upside to having a fantasy QB controversy is imagining the press conference in your head where you get to stand in front of the press and explain to them why you went with Matt Ryan over Matt Stafford. "I just thought Ryan gave us a better chance to win this week." That's ALWAYS the explanation.
Panthers at Lions: I know people shit on Mike McQueary for apparently not breaking up an alleged rape committed by Jerry Sandusky (McQueary has since claimed that he put a stop to it), but I have one additional theory as to why he might not have intervened. I know that McQueary is a big guy who is significantly younger than Sandusky. But if you happen to come across someone who is willing to commit child rape, wouldn't you be somewhat terrified for your own personal safety? The guy's raping a kid. Don't you think he's more than capable of lashing out and attacking YOU should you step in? Don't you think he's more than capable of murder if you witness that kind of evil with your own eyes? I'd be scared shitless.