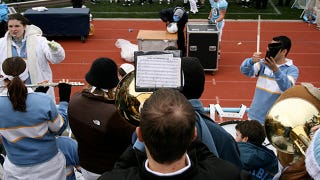 You did it, Deadspin readers! Or at least our friends at the Columbia Spectator say you did it:
Two days after the University athletic department informed the marching band that it wouldn't be welcome at Saturday's season-ending football game due to its behavior at last weekend's matchup in Ithaca, the department has reversed its decision, telling the band on Thursday night that it would be allowed to participate in the game as usual.
[...]
The story of the ban broke Wednesday on Spectator, and quickly incited unanticipated media attention. After getting picked up by Deadspin on Wednesday night, it quickly spread to hundreds of news sites, including ESPN, the Associated Press, and the New York Times.
You'll recall that the band had been banned from the 0-9 football team's season finale because they made jokes about the team losing and the fans boozing. Now national media attention has compelled the school to change its decision. According to Spec, some alumni threatened to withhold donations if the band's ban stood. And money talks at Columbia, particularly since the football team isn't good enough to inspire donations.