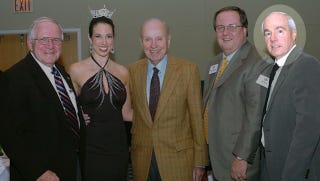 Bob Poole is the chairman of The Second Mile board of directors (or, perhaps, former chairman—nobody really knows who's running things now). He's held that position for 17 years. He was chairman, then, in 1998, when an attorney for both Second Mile and Penn State learned about an investigation into alleged sexual misconduct by Jerry Sandusky. Poole is also the CEO of Poole Anderson Construction, a big State College outfit that was the fifth-highest-compensated independent contractor employed by Penn State in 2010. PSU paid Poole's company $12,154,402 in the last fiscal year. In 2009, Poole's company got even more money: $12,936,843, according to the "Right to Know Reports" the school is required to file with the state. That's a total of $25,091,245.
The documents don't specify which projects Poole Anderson worked on, but I found information about the company's recent Penn State-related construction jobs on its website. It's quite a list:
According to the Pittsburgh Post-Gazette, Poole Anderson is also the construction manager for the $11.5 million "Center for Excellence," a Second Mile project that had long been a dream of Sandusky's. The learning center, which was to be financed in part by a $3 million state grant approved by Gov. Tom Corbett, was supposed to have classrooms, dorms, athletic facilities, and an auditorium. The state grant is now on hold.
We mentioned Poole on this site two days ago after state Rep. Mike Vereb released documents showing that Poole had raised money for Leslie Dutchtot, the district judge and Second Mile volunteer who let Sandusky out of jail on unsecured $100,000 bail. (Dutchtot has since been taken off the case.)